Photo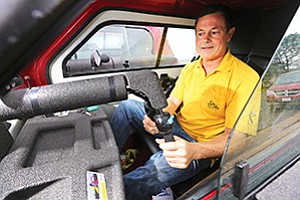 Lon Ballard developed the energy-efficient, three-wheeled Spira to reduce motor vehicle deaths.
Stories this photo appears in:
AUTO: Three-Wheel Vehicle Made Difficult Journey to Marketplace
For Lon Ballard, it has been a long odyssey in a tiny car. The nine-year trip has taken him from Thailand to the Philippines, back and forth from China to the United States, and through forests of paperwork and thickets of red tape.