DEFENSE: CERTAIN WORK WILL BE LOCAL; KRATOS DEFENSE IS AMONG THE SUBCONTRACTORS
Northrop Grumman Charts Path to Design, Build ICBMs
Thursday, April 15, 2021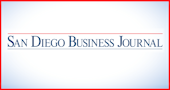 Northrop Grumman Corp. (NYSE: NOC) has taken a first step toward building the Ground Based Strategic Deterrent (GBSD), a missile system expected to replace the country's Minuteman III Intercontinental Ballistic Missiles (ICBMs) by the end of the decade.
The defense contracting giant will reportedly spread work on the program over 10 sites, including San Diego. In addition, one of Northrop Grumman's main subcontractors is a company based in Scripps Ranch, Kratos Defense & Security Solutions Inc. (Nasdaq: KTOS). Kratos is under contract to build the ground vehicles that will transport the missiles.
The first step in the program that will eventually produce missiles is called an Integrated Baseline Review (IBR). Northrop Grumman describes it as a critical milestone that sets the performance measurement baseline and keeps the program on track for initial operating capability by 2029.
IBR occurs within the first 180 days of contract award to set cost and schedule baseline, identify and quantify risks and ensure mitigation plans are in place when executing the program. Early in the review, Northrop Grumman and the U.S. Air Force collaborated to develop a common understanding about the project's baseline as it relates to technical, schedule, cost, resource and management process risks and their impacts.
Northrop Grumman received its contract for the first phase — called engineering and manufacturing development (EMD) — of the GBSD project in September. The EMD phase includes full system design, qualification, test and evaluation, and nuclear certification. Upon successful completion of EMD, the Northrop Grumman team will begin producing and delivering fully integrated ICBM system to meet the Air Force's schedule of initial operational capability by 2029.
The GBSD program has also earned the e-Series designation by the U.S. Air Force, meaning the program has leveraged digital engineering principles to model and authenticate virtual designs and significantly shorten development timelines.
Northrop Grumman is leading a nationwide team that also includes Aerojet Rocketdyne, Bechtel, Clark, Collins Aerospace, General Dynamics, L3 Harris, Lockheed Martin and Textron Systems. Also participating are hundreds of small and medium-sized companies from across the defense, engineering and construction industries. Northrop Grumman said that overall, the GBSD program will involve more than 10,000 people across the United States.