TECH: CO. ANTICIPATES LUMP SUM PAYMENT, DECREASED LEGAL COSTS
Qualcomm to Get $4.5B from Apple Settlement
Sunday, May 5, 2019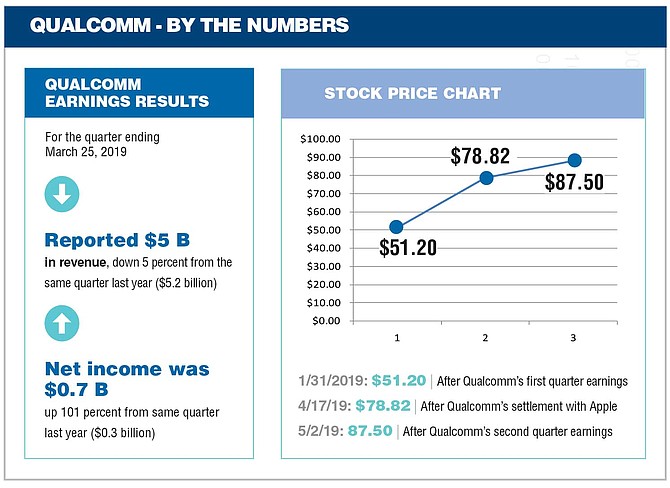 Qualcomm Inc. expects to net between $4.5 billion and $4.7 billion from its settlement with Apple Inc., according to the company's May 1 earnings report.
After more than two years of litigation, with more than 80 outstanding cases against each other, the two companies reached a settlement on April 16. The deal included a payment from Apple to Qualcomm, and a six-year licensing and supply agreement, with the option to extend it for another two years.
"We believe this settlement is a win for both companies. We are pleased with the result and pleased to have it behind us," Qualcomm CEO Steve Mollenkopf said in an earnings call.
He did not share any specifics on which chips or how many of those chips Qualcomm would supply to Apple, or how much Apple would pay the San Diego chipmaker in the future in licensing fees. Qualcomm has said it expects a $2 increase to earnings per share as Apple ramps up its product shipments, not including the $4.5 billion lump-sum payment.

"I'm not going to go through all the details other than to say it's a multiyear agreement. I think both companies are happy with it," Mollenkopf told investors. "I'll just remind you, there's a lot of tension removed out of the system as a result of these two settlements. And I really like the opportunity to have the two teams working together on products in the future. It's a much more natural relationship."
Notably, this would be Qualcomm's first licensing agreement directly with Apple. In the past, Apple had licensed Qualcomm's technology through its contract manufacturers: Foxconn, Pegatron, Wistron and Compal.
While Apple makes many components for its phones in-house, it will likely use Qualcomm's modems when it releases its first 5G smartphones to market. In the future, Mollenkopf said the agreement could lead to the opportunity to provide Apple with other technologies and products developed by Qualcomm.

The settlement payment and licensing revenue from the new agreement are expected to appear in Qualcomm's earnings next quarter. The company is forecasting revenues of $9.2 billion to $10.2 billion for the third quarter, up from $5.6 billion during the same period in 2018. However, excluding the settlement payment, Qualcomm is expecting $4.7 to $5.5 billion, a slight decrease from the prior year.
Mollenkopf also hopes the Apple settlement will lead to another big resolution. Huawei and Qualcomm have been in a dispute over licensing costs, with the Chinese phone maker currently paying Qualcomm $150 million per quarter in licensing as the two companies negotiate.

Prev Next