DINING: $1.5 MILLION IN AVERAGE SALES PER STORE LAGS TOP COMPETITORS
All Agree on One Thing, Jack Needs to Make More Money
Monday, March 4, 2019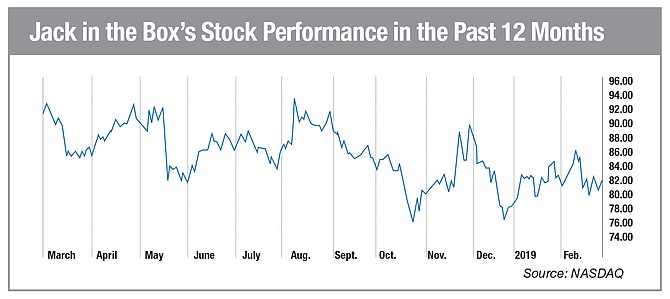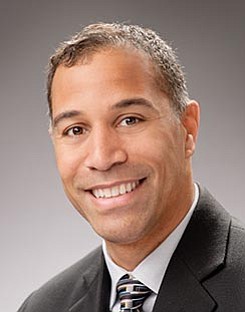 JACK IN THE BOX
CEO: Lenny Comma
Revenue: $870 million in 2018; $1.56 billion in 2017
Net Income: $121 million in 2018, including earnings from discontinued operations; $135 million in 2017
No. of local employees: 1,175
Headquarters: Kearny Mesa
Year founded: 1951
Stock symbol and exchange: JACK on Nasdaq
Company description: Quick-service restaurant franchisor
On the hunt for a buyer in 2019, Jack in the Box Inc. is working to resolve the challenges and contradictions of the year gone past.
2018 saw two markedly different stakeholder groups — activist investors and franchisees — continue their calls for the company to change the business to their liking. Both groups have been very public with their demands.
As it talked with its stakeholders, Jack in the Box (Nasdaq: JACK) narrowed its focus to please activist shareholders such as Jana Partners. The corporation had $1.56 billion in 2017 revenue and essentially broke itself in half in early 2018, selling its Qdoba sit-down Mexican restaurant chain. The point was to concentrate exclusively on its drive-thru quick-service Jack in the Box restaurants, which are mostly owned by franchisees.
In spite of that move, the markets' enthusiasm waned as the year went on. Jack in the Box shares lost 21 percent of their value in 2018, going from $98.11 on the last trading day of 2017 to $77.63 on Dec. 31, 2018.
The stock perked up to the $81 range more recently when Jack in the Box reported financial results that exceeded analyst expectations. Operating earnings were $1.35 per share, above the analysts' consensus of $1.28. Same store sales were also ahead of analyst expectations.
Positioning for Sale
Today the corporation is positioning itself for a possible sale, and there is interest among private equity groups to get into the quick-service food business.
"There is a lot of M&A cash out there," said Aaron Allen, a restaurant consultant with offices in Chicago and Florida. He added that companies are leaving the public markets to avoid the level of scrutiny that goes with being publicly traded, as well as phenomena such as short-selling.
Industry publications claim to have insight on sale negotiations, Restaurant Business reported on Feb. 14 that a suitor balked at Jack in the Box's asking price and its prospects for growth. The publication cited a report in DebtWire as its source. DebtWire suggested prospective buyers were uncomfortable with the chain's strained relationship with franchisees.
As of its Feb. 21 earnings statement, Jack in the Box said it was still considering a sale — or absent that, taking on more debt. It said it would not make further comment on the matter.
Prev Next