San Diego Digital Health Accelerator Nex Cubed Names First Cohort
Sunday, March 3, 2019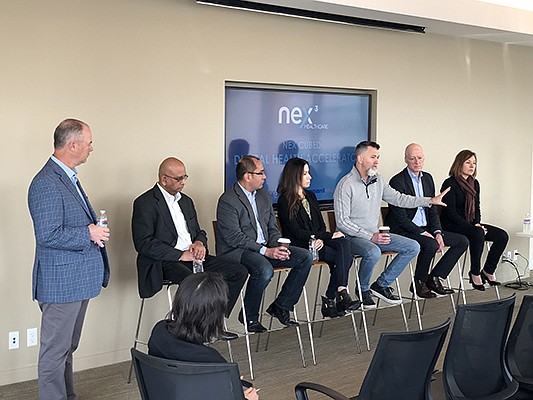 "I wished I had someone that understood everything about my industry; that said, 'I'm part of your team,'" he said. "We're not just doing master classes and getting coffee a few times per month. It's a very programmatic approach."
Companies will demonstrate their businesses at the end of the 16-week program on June 5. Applications for the Nex Cubed Digital Healthcare Accelerator's fall cohort will open on April 1, with the next program kicking off in August.
Read more about this year's participants:
Meet Nex Cubed's First Health Cohort:
RockStep Solutions:
Portland, Maine-based RockStep Solutions is working on organizing research for academia, biotech companies and contract research organizations. The company is working with UC San Diego, Columbia University, Novartis and several other partners to manage study design and results. It has raised $2.8 million in funding to date.
RISEcx:
Portland, Oregon-based RISEcx is developing a platform for self-directed care management called CareSpace. The company is working with Kaiser Permanente, Facebook, Mayo Clinic and Microsoft to develop health coaches, assessments and other tools. The company has raised more than $1.1 million to date.
Caressa:
San Mateo, California-based Caressa is an interactive media streaming service for seniors. The voice device provides news updates, music and social media updates from family. The company is preparing to launch a pilot program with Brookdale Senior Living.
Ootify:
Los Angeles-based Ootify is a mental health marketplace that connects users with a mental health professional, life coach or mentor through an app. The company currently has more than 150 providers on its platform.

PreMinder:
New York-based PreMinder is tapping into the marketplace for Medicare chronic care management. The company lets providers send out pre-recorded messages to patients through a phone call, with information on medications and surveys on their health. The company has enrolled more than 2,200 patients.
SaRA Health:
Kansas City, Missouri-based SaRA Health helps physical therapy patients with personalized exercises and reminders for adherence. The company is seeking to improve outcomes and reduce costs for occupational injuries. The company is preparing to launch a pilot with Kenworth Trucks.
Visom Technology:
Seattle-based Visom technology designed an application for the HoloLens to assist neurosurgeons using CT or MRI images, allowing them to get a three-dimensional view of the surgery. The company has applied for FDA pre-submission, and its technology will enter clinical trials at the Medical University of South Carolina.
Prev Next