TECH: Settlement Puts Qualcomm Back In 5G Driver's Seat
Sunday, April 21, 2019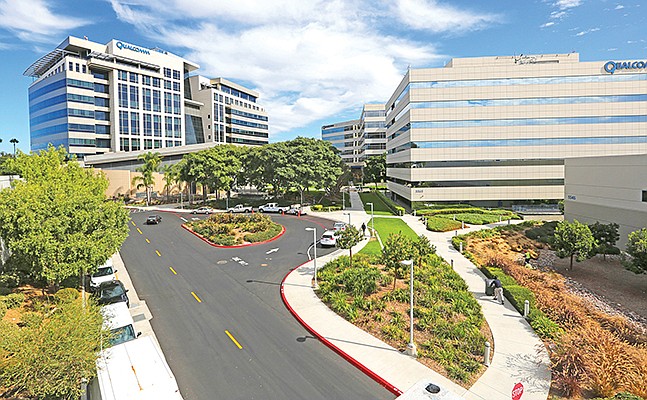 Another, less discussed possibility: Outside competitors may have played a role in bringing the quarrelling partners back together. Chinese phone-maker Huawei has its own silicon division, HiSilicon. It's growing—even as the broader demand for new smartphones is slowing.
"The forecast is for Huawei to grow 35 percent this year in a market that will be down 5 percent," said Cassidy of Stifel Financial Corp. "Both Qualcomm and Apple are losing market share. They're teaming up to say, we've got a serious competitor here, and it's not just Samsung."
Qualcomm still faces one outstanding challenge to its licensing practices. U.S. District Judge Lucy Koh had yet to rule as of April 17 in the U.S. Federal Trade Commission's antitrust lawsuit against Qualcomm, which concluded on Jan. 29.
It's possible that the FTC and Qualcomm may settle before Koh's ruling. The two had pursued a settlement before the trial began in January, and the FTC has faced pressure to settle based on "national security concerns."
Koh hasn't given an indication of when she will rule, other than to note that her decision would take longer than usual.
"It just seemed like she was highly suggesting that the two settle out of court," Cassidy said.
Though Apple had an information sharing agreement with the FTC, with the settlement, Apple will likely not look to spend any more time on that case. The leadership at the Department of Justice has also pushed back on the FTC's case.
"The current administration probably doesn't want to go forward with this," Drinker Biddle's Stoll said. Makan Delrahim, the head antitrust official with the Department of Justice, has pulled out of agreements with the (Patent and Trademark Office) and gone more in the direction of pro-patent owner."
The FTC declined to comment on settlement talks with Qualcomm.
Future Plans
With the extra cash in hand from the settlement, Qualcomm will be able to make some interesting moves. The company may once again be able to shift to hiring mode, and it might also become more acquisitive.
Qualcomm has said it is not interested in revisiting a deal with NXP after its failed bid to acquire the Dutch semiconductor manufacturer last year. NXP would have been an important acquisition for Qualcomm's automotive business, but the San Diego chipmaker might be on the hunt for other options, Cassidy said.
"The goal is for Qualcomm to start selling 5G outside of just smartphones," Cassidy said. "That's the opportunity to acquire another company that may be selling in the automotive market."
For Apple, it's difficult to say if the settlement will affect plans for its new San Diego office. The Cupertino-based company announced it would hire 1,200 people for its planned tech campus, and some job postings have pointed very clearly to modem engineers.
"When they're hiring for design engineers for a digital modem, you have to take them for their word," said Moorhead of Moor Insights and Strategy. "At the beginning, I pretty much thought Apple was trying to poach Qualcomm engineers. … Now that there's an armistice here, are they going to aggressively go after Qualcomm employees like they were before? I just don't know."
If Apple is interested in making its own modems, it also could pull talent from Intel's and MediaTek's offices in San Diego. And with Intel looking to offload its 5G modem business, Apple could be first in line to buy it.
In the long term, Cassidy said, Apple likely wants to build its own chips. That takes time, money and technology assets. With their six-year agreement with Qualcomm, Cassidy said, "They've bought themselves some time."
See More > > ECONOMY: San Diego Is a Clear Winner as Company's Stock Surges
Prev Next