TECH: Settlement Puts Qualcomm Back In 5G Driver's Seat
Sunday, April 21, 2019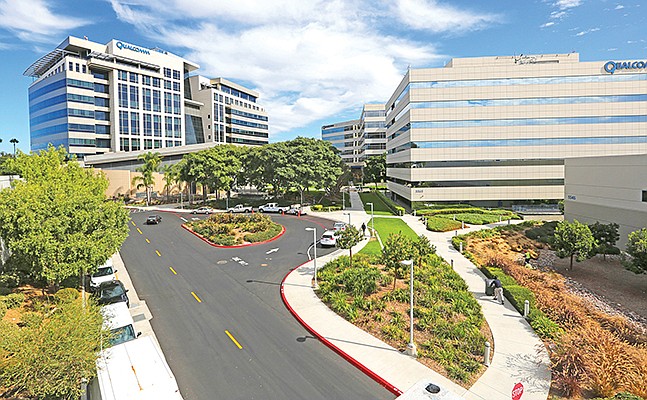 Qualcomm Stock Price
$67.11 – 4/17/15
$51.06 – 4/15/16
$52.79 – 4/13/17
$55.73 – 4/13/18
$79.08 – 4/17/19
The announcement that shook the tech world last week immediately brightened Qualcomm Inc.'s future.
Wounded in a fight with Apple Inc. over patent licensing fees across the globe, unable to complete the deal to acquire NXP Semiconductors N.V. after China shot down its bid last year, and getting nowhere near the promised $100 stock price, the San Diego chipmaker needed the good news.
It was just two days into Apple's multibillion-dollar antitrust trial against Qualcomm before U.S. District Judge Gonzalo Curiel. The two tech giants had been embroiled in a scorched-earth legal battle spanning more than two years and 80 cases.
The consequences of a loss for Qualcomm in the trial that began in Curiel's San Diego courtroom April 15 could have been staggering: Apple and its contract manufacturers were expected to seek up to $27 billion in damages based on past royalties they had paid. Qualcomm would have sought at least $7 billion — the rough equivalent of unpaid royalties since Apple stopped paying for licensing in April of 2017.
Attorneys for Qualcomm, Apple, and its contract manufacturers had laid out a litany of points in opening statements before the nine-person jury. They spoke about the damage done to their companies, told sentimental stories about when Apple and Qualcomm were just startups in a garage, and compared patent licensing to Kentucky Fried Chicken.
And then, within minutes, it was all over.
Separately from the unfolding trial, Apple and Qualcomm jointly announced that they would settle all of their cases against each other. Curiel sent the jury home. Though financial details were sparse, Apple would pay Qualcomm an undisclosed amount, and the two companies signed a six-year licensing agreement, with the option for a two-year extension.
Apple will also license Qualcomm's technology directly, rather than through contract manufacturers Foxconn, Pegatron, Wistron and Compal.
Qualcomm did share one number: It expects to see a $2 boost to its earnings-per-share as it begins ramping up shipments. This appears to indicate Qualcomm will continue charging Apple the same licensing fee as before, estimated around $7.50 per phone, said Kevin Cassidy, a semiconductors equity analyst for Stifel Financial Corp. A separate report by UBS Analyst Timothy Arcuri pegged the royalties at $8 to $9 per iPhone.
"It seems to me, they didn't give any concessions through a lower licensing fee," Cassidy said. "I think they held their negotiation."
Prev Next