LEGAL: TECH LANDSCAPE CHANGES WOULD GO BEYOND TWO COS.
Apple, Qualcomm Fight Opens New Fault Lines
Sunday, April 14, 2019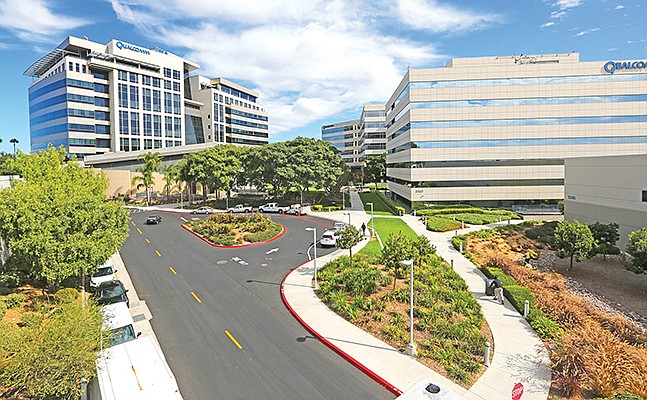 Recent Qualcomm Cases
Jan. 29: The Federal Trade Commission's antitrust case against Qualcomm concludes. District Judge Lucy Koh had not made a ruling as of April 10.
March 15: A San Diego jury finds Apple infringed three of Qualcomm's patents. Apple must pay the chip-maker $31 million in damages.
March 26: The U.S. International Trade Commission rules one of Qualcomm's patents is invalid. Qualcomm had sought to secure a ban on iPhones that infringed one of its patents.
March 26: In a separate case before the ITC, an administrative law judge ruled that Apple had violated one of Qualcomm's patents, and recommended an import ban on infringing iPhones. Nothing would take effect until the full commission rules on the case.
April 15: Apple's five-week breach of contract and antitrust trial against Qualcomm is expected to start in San Diego.
Qualcomm Inc. and Apple Inc. will face each other in court again, in another important legal skirmish putting billions of dollars and Qualcomm's licensing business at stake. Apple's antitrust trial against the San Diego-based chipmaker is expected to begin April 15, in Qualcomm's backyard at the U.S. District Court for the Southern District of California. The case could determine how much Qualcomm is able to charge phone-makers to license its vast library of patents.
"There has been a lot of focus on (the case as) two kids in the sandbox continuing to battle. But there are a lot of implications, not just for Apple and Qualcomm, but across the entire tech space," said Daniel Ives, a managing director and equity analyst for Wedbush Securities. "It would have implications across the whole semiconductor food chain. It would also set a precedent from a licensing perspective."
At the heart of the case is a 2013 business agreement between Apple and Qualcomm, giving Apple a rebate on Qualcomm's licensing fees in exchange for exclusively using Qualcomm's modems in its devices, and for Apple not prompting certain lawsuits or investigations against the chipmaker. That agreement dissolved in 2016, when Apple began incorporating Intel's modems into the iPhone 7 and later models.

Apple sued Qualcomm two years ago for breach of contract, saying it owed Apple unpaid rebates. Qualcomm, for its part, accused Apple of breaking their business agreement by making "false and misleading" statements to the Korean Fair Trade Commission.
On March 14, District Judge Gonzalo Curiel ruled that Qualcomm owes Apple nearly $1 billion in unpaid rebates. But that isn't nearly the full scope of what Apple is seeking in this case.
Prev Next