FINANCE: SAN DIEGO'S OLD AND NEW ECONOMIES STILL GENERATING WEALTH
J.P. Morgan Private Bank Finds Good Expansion Opportunity
Thursday, September 20, 2018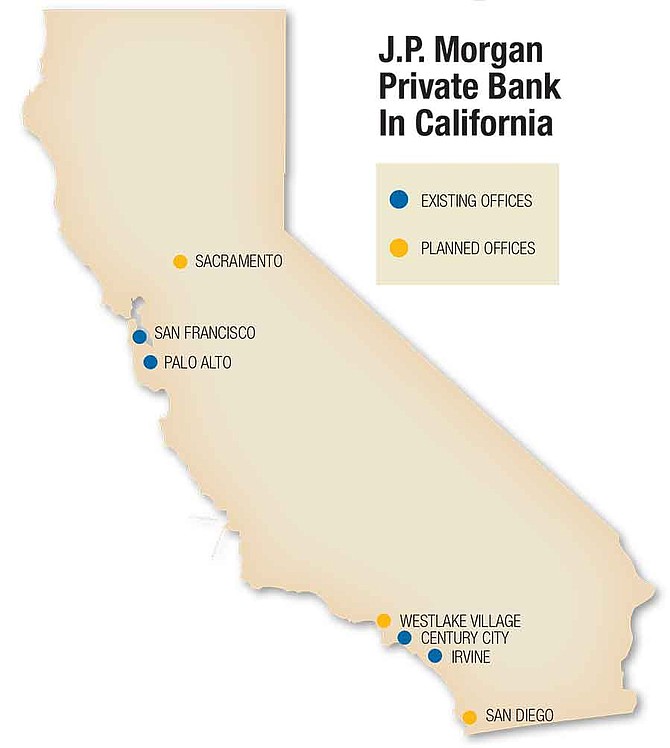 J.P. Morgan Chase & Co. sees opportunity in the land of surf culture, fish tacos and burgeoning technology businesses.
The New York financial services giant is embarking on a several-year bid to serve more wealthy individuals in San Diego.
READ MORE: Balboa Thrift's New CEO Is Familiar With The Bank's Chosen Route: Car Loans
Its high-end J.P. Morgan Private Bank has a satellite office on tony Girard Avenue in La Jolla. A manager in Irvine oversees a handful of San Diego County employees.
That's going to change soon.
J.P. Morgan Private Bank is on the hunt for a bigger office and talent to staff it. It plans to have 40-45 employees in San Diego by 2023, according to Ethan Morgan, market manager of J.P. Morgan Private Bank Orange County.
Plan for New Branch in 2019
J.P. Morgan Chase (NYSE: JPM) plans to open the new private bank branch in 2019.
San Diego has old-economy wealth from manufacturing, real estate, aerospace and defense, said Morgan. It also has new-economy wealth from health care, life science and technology — including med tech and biotech. (J.P. Morgan has done considerable commercial banking in life science, Morgan said.)
It's not that different from Orange County, though San Diego offers more bioscience and not too much of an apparel business.
In addition to locally generated wealth, the company expects wealthy people to migrate to the region.
Investible Assets of $5M
J.P. Morgan's private bank will accept clients with investible assets of $5 million or more. It's an approximate figure. A company spokeswoman said the bank prefers not to focus on a minimum amount; "we focus on the complexity of the balance sheet," she said.
"We deliver a high-touch, boutique feel," added Morgan, who previously worked with Wells Fargo Private Bank. Prior to that, in 2001 and 2002, he helped establish Citigroup's private bank offices in Orange County.
An institution such as J.P. Morgan Private Bank typically provides an entire team to manage the estate of a high net-worth client, said Rick Sanborn, CEO of San Diego's Seacoast Commerce Bank. The team of six to eight professionals can include an attorney, a certified public accountant, a certified financial planner and a registered investment adviser.
Most small banks can't have such teams, Sanborn said. "It all comes at tremendous cost."
One individual typically acts as a liaison between the client and the team. Frequently the bank representative will travel to the client, rather than the other way around.
Bundling services and cross-selling are important aspects of the private bank model, said Tom Wornham, another CEO from San Diego's banking community. The high net-worth client may be interested in investments or trust services, he said.
Staffing Moves
Morgan is the point man for J.P. Morgan Private Bank's expansion in San Diego. Executives have charged him with finding real estate for an expanded office — he is halfway through the process — hiring a San Diego market manager and hiring people to staff the office.
Sanborn said it is likely that J.P. Morgan Private Bank will recruit existing private bankers "with an established book of business."
Neither Sanborn's Seacoast Commerce Bank or Wornham's CalPrivate Bank are in the same space as J.P. Morgan Chase. Both locally based banks have comparatively few assets and focus on business lending.
Last year, J.P. Morgan Chase reported net income of $24.4 billion on total net revenue of $99.6 billion. Net income in 2017 declined 1 percent from 2016 when the figure was $24.7 billion. Total net revenue for 2016 was $95.7 billion.
At the end of the second quarter, the corporation reported assets of $2.6 trillion.
In addition to Orange County, J.P. Morgan Private Bank has offices in Century City, San Francisco and Palo Alto. Officials said they are pushing into 20 national markets that the company feels are underserved, setting a goal of establishing a presence by 2022.
The first wave of office openings will include cities in the West (Sacramento, Portland and Salt Lake City) and the East (Pittsburgh and Baltimore). The private bank also plans to open a branch in Westlake Village, serving the San Fernando Valley as well as Ventura County.
The company also has 91 retail branches of Chase Bank in the San Diego market, as well as strong commercial banking, business banking and real estate financing presence, said a spokeswoman.
Wornham, one of the San Diego bank CEOs, suspects that other banks will follow J.P. Morgan Chase into the San Diego market.
"I think the world of Jamie Dimon," he said, referring to J.P. Morgan Chase's chief executive. And Dimon, he said, "always looks at the long-term strategy."