S.D. Sustainable Chemical Manufacturer Raises $90M
Sunday, October 7, 2018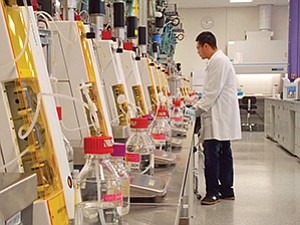 Genomatica, a San Diego biotechnology company, raised $90 million in an Oct. 3 equity offering. The company made its name by developing plant-based chemicals used in everything from recyclable plastics to cosmetics.
The round was led by New York-based investment firm Casdin Capital. Greenwich, Conn.-based hedge fund Viking Global Investors and Boston-based organism engineering company Ginkgo Bioworks also contributed to the funding round. Viking Global will remain Genomatica's largest shareholder.
"Biotechnology promises to enable the chemical industry in remarkable ways. That said, only businesses with strong fundamentals and commercial products will be successful," Casdin Capital Chief Investment Officer Eli Casdin said in a press release. "Genomatica is one of the few companies with that profile and fresh capital now enables them to grow that position substantially."
With the investment, Genomatica and Ginkgo Bioworks announced they would expand their partnership, giving Genometica more access to its foundry services, which are used to design custom organisms. The two companies first began working together in 2016.
Genomatica stated it would use the additional funds to "fully execute on its business plan and fuel new growth opportunities."
One of those opportunities includes the ability to develop sustainable textiles and fibers by making biobased nylon. Genomatica is already working with firms such as Swedish clothing brand H&M and French textile manufacturer Balsan.