SDBJ Announces Lifetime Achievement Award Recipient
Sunday, May 20, 2018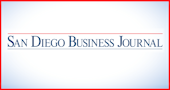 Mary Jean Anderson, owner and president of Anderson Plumbing, Heating & Air was named the Lifetime Achievement Award winner for the San Diego Business Journal's "2018 Most Admired CEO Awards." Anderson has grown the company to $30 million in annual revenue and 185 employees.
The event recognizes contributions to company growth, leadership and community involvement by CEOs in the San Diego area. A special awards reception will acknowledge the winners and finalists June 7 at the Hyatt Regency La Jolla at Aventine. Nominees will be judged in the categories of public company (publicly traded), privately held company, nonprofit organization, and family-owned business.
The San Diego Business Journal joins with gold sponsor Moss Adams LLP in presenting this recognition program.
Order tickets online at http://www.sdbj.com/bizevents/