PHARMA: CO. TRANSFORMS AFTER WEIGHT-LOSS FLOP
Arena Quietly Returns With Promising Autoimmune Trials
Thursday, May 17, 2018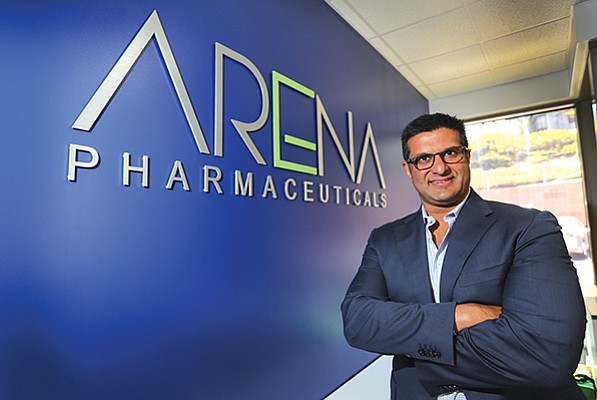 San Diego — Arena Pharmaceuticals' weight-loss drug flopped a few years ago, signaling a bleak future. That is, if you ignored Arena's shelved compounds.
More are paying close attention now.
After fresh leadership came in two years ago, Arena (Nasdaq:ARNA) exited obesity and rebooted autoimmune drugs, triggering a comeback. The company's stock on May 7 traded at $43.12 a share, about triple the bottom more than a year ago.
March saw promising mid-stage clinical trial data for Arena drug etrasimod, which led to patient remission against an inflammatory bowel disease called ulcerative colitis. Etrasimod and another Arena drug are heading toward a final-stage trial, with other promising drugs in the pipeline.
"As crazy as the last 18 to 20 months have been, I think the next 18 to 20 months are going to be equally if not more frenetic with just the growth of the company, key catalysts, key milestones," said CEO Amit Munshi.
Munshi took the reins in 2016 as part of a reorganization. The company's obesity drug belviq, which received U.S. approval in 2012, posted disappointing sales. Further making belviq an albatross, the U.S. Food and Drug Administration stipulated post-approval testing.
"Arena has undergone a clear transformation in a fairly short period of time over the past two years, shifting from a belviq story to one centered on the company's wholly-owned pipeline," said J.P. Morgan analyst Jessica Fye in an April research note.
This evolution owes much to the promise of etrasimod. That said, the drug has competition from ozanimod, touted as a blockbuster drug should it win approval. Ozanimod was first developed by San Diego's Receptos, which New Jersey-based Celgene acquired for $7.2 billion in 2015.
Analysts say Arena's etrasimod seems comparable in ulcerative colitis – and possibly has an edge.
"Overall, we continue to see clear efficacy," Fye said. While bullish on Arena, Fye expects a "multi-year period" before the release of final-stage data.
But given the two drugs' similarity, analysts have recently questioned whether etrasimod could be ensnared in ozanimod's regulatory setback. Celgene received a refusal-to-file letter earlier this year from the FDA over metabolite questions in ozanimod, delaying the drug's launch.
Arena's management has responded by saying no similar issues exist in etrasimod.
"They clearly said it's not a class effect. It's a compound issue," Munshi said. "They made that explicit."
Even with ozanimod's delay, the drug looks to hit the market first. This doesn't faze Munshi.
Prev Next