MERGERS: REYNOLDS HAS HAND IN COMBINING LEADERSHIP PROGRAMS
CFO Awards Nonprofit Business: Exec Puts Collaborative Powers to Work
Sunday, March 25, 2018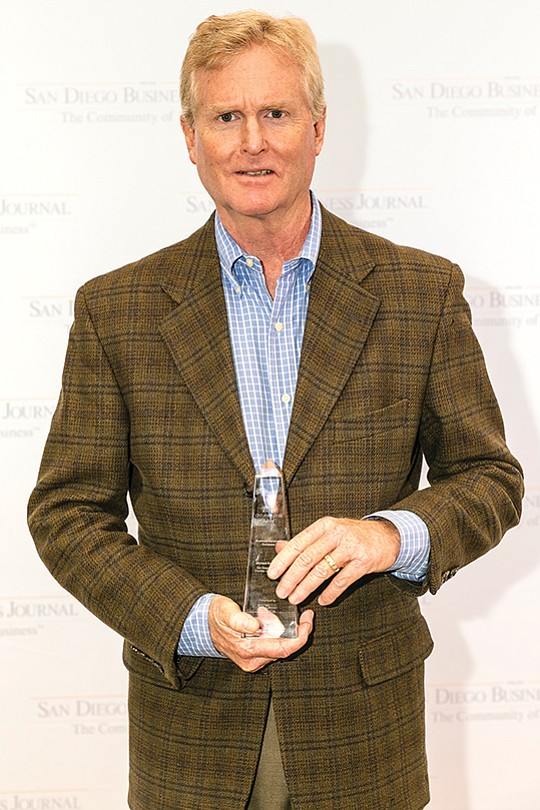 San Diego — Advocating for San Diego County's economic future is not a simple task but one made a little easier by a strong financial leader.
Michael Reynolds, the chief financial officer for the San Diego Regional Chamber of Commerce, was recently named a 2018 San Diego Business Journal CFO of the Year award winner. He received the honor in the business nonprofit category.
Reynolds, who moved to the region as a child and graduated from San Diego State University, cut his teeth working in the technology sector – mostly early to mid-stage companies – before joining the chamber in 2015.
Among Reynolds' most recent accomplishments with the nonprofit business advocacy group is the completed merger between LEAD San Diego and the chamber. In 2017, Reynolds was part of a three-person team that completed the merger, which included due diligence, amending bylaws, financial gap plans to bridge the difference fiscal years, and terms of the combination agreement.
Leadership Umbrella
LEAD San Diego was a nonprofit organization that provided programming dedicated to developing civically engaged leaders. It now operates as an affiliate of the chamber with shared resources but a separate board of directors.
"This allows the Chamber to use its resources to take LEAD San Diego to the next level and not only continue but enhance the excellent leadership programming that LEAD has been known for over the last 35 years," Reynolds said.
He also negotiated and executed the transfer of the Public Leadership Institute program to operate under the chamber. The Public Leadership Institute is a non-partisan program for business professionals who are interested in pursuing elected office or appointed positions.
The chamber previously had a program for emerging leaders and women; it now has a total of five leadership programs.
Broadening the Mission
Reynolds' other recent accomplishments include updating the monthly financial reporting with new key metrics on member retention, and leading the replacement of the legacy accounting software package with a cloud-based platform.
For the chamber staff, Reynolds championed smaller but important items, including switching 401K matching funds from annually to bi-monthly, and increasing bonus pools to better accommodate demands of new talent, and urging more department managers beyond public policy to participate in delegation trips to broaden their understanding of the chamber's mission.
Reynolds described the chamber as an extremely well managed organization with "excellent fiscal discipline that I've been able to tweak and improve over the last few years through improved reporting, more relevant information, and solid transparency that has helped the chamber exceed its financial and operating goals."
Reynolds ongoing professional duties also include overseeing the chamber's membership department. Outside of his chamber duties, he serves on the board of directors of the La Jolla High School Foundation.