BIOTECH: CO. TO TAKE ON PREVIOUSLY 'UNDRUGGABLE' PROTEINS
Deal Gives Vividion Small Molecule War Chest
Tuesday, March 20, 2018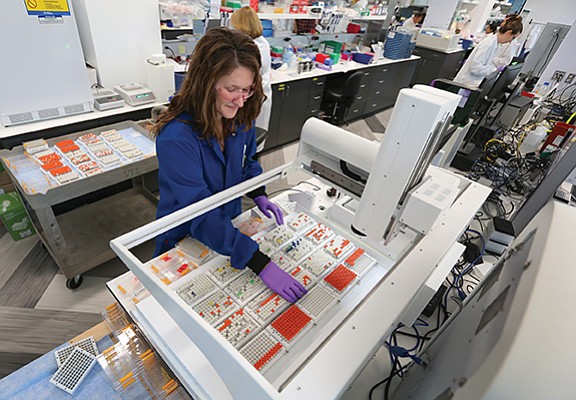 San Diego — Even by startup standards, Vividion Therapeutics CEO Diego Miralles makes bold claims. He said the venture marks a "once-in-a-generation opportunity" to build a transformative company in San Diego.
Hyperbole or not, the company just secured $101 million upfront in a four-year collaboration with Celgene, the New Jersey-based pharmaceutical giant with a San Diego office. Further, the Celgene deal could yield even bigger bucks, the company has plans for its own drug pipeline, and it's backed by heavy hitters in San Diego biotech.
The company — currently in a 12,000-square-foot office in La Jolla, including lab space buzzing with activity — will soon move to 34,000-square-foot digs in Sorrento Valley. Vividion has about 45 employees, with plans to hire significantly more.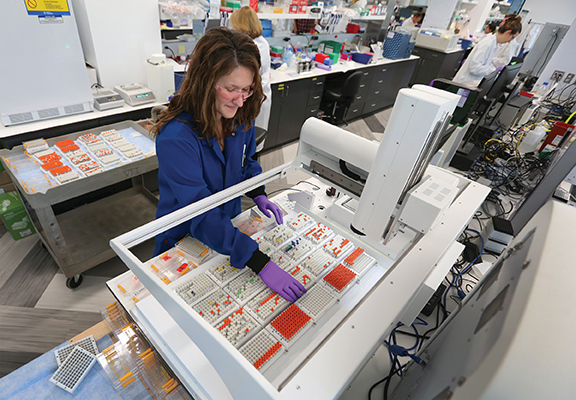 Celgene is tapping Vividion's drug-discovery platform, aimed at compounds for "undruggable" proteins. This technology could open up the development of small molecule drugs, which are usually pills that can be swallowed — thus known for convenience and ease of delivery.
Reaching the Proteins
Small molecules have long been the ammunition of drugmakers targeting proteins linked to diseases. But swaths of proteins are undruggable — they lack pockets that small molecules can latch onto to interrupt the protein.
These tough-to-drug proteins have left diseases untreated. Through Vividion discovering molecules that bind to cell proteins, the partnership looks to create new drugs for cancer, inflammation and neurodegenerative conditions.
"The way that we search for drugs allows us to go after essentially most biological problems. We essentially can drug any protein in the cell. Therefore, that creates completely different types of possibilities," Miralles said.
Besides Celgene, Vividion will work on its own drug programs. Because the platform allows so many options, Miralles said it's a matter of deciding on which disease areas to focus.
"That's both the opportunity of the company and the challenge of the company. We can do anything but we cannot do everything."
The agreement with Celgene provides a runway — and freedom.
"The capital was significant. Very important was the freedom that it leaves Vividion to grow and be an independent company," Miralles said.
Vividion's platform is based on the work of three Scripps Research Institute scientists and company co-founders: Benjamin F. Cravatt, Jin-Quan Yu and Phil S. Baran. The company's core tech was developed in Cravatt's basement lab, and his ties with Celgene sparked collaboration talks.
Cravatt is also the scientific co-founder of Abide Therapeutics, which also was born in The Scripps Research Institute and partnered with Celgene.
Previous Investment of $50M
More than a year ago, Vividion surfaced with a $50 million investment, led by Arch Venture Partners and Versant Ventures, and joined by Cardinal Partners. Miralles — previously the president of Adaptive Therapeutics — joined as CEO in September, drawn by scientific potential.
At about the same time, industry heavyweight and serial entrepreneur Rich Heyman was appointed to Vividion's board.
Under the Celgene deal, much more could flow to Vividion than $101 million.
Vividion will lead initial discovery efforts and identify collaboration programs. Celgene holds the right to opt into programs upon the filing of a new drug application.
For certain programs, including the first, Celgene will receive exclusive worldwide rights, with the potential for Vividion to receive up to double-digit royalties on sales and milestone payments.
In other efforts Celgene and Vividion would share development costs, as well as commercialization profits — or losses.
Through the $101 million investment, Celgene also took an undisclosed stake in Vividion. The initial term of the deal is four years, with Celgene having the option to extend two years upon additional payment.
"Vividion has assembled a truly cutting-edge drug discovery platform that offers the opportunity to accelerate drug delivery in new and impactful ways by expanding the druggable proteome and addressing difficult targets," Celgene's Rupert Vessey, president of research and early development, said in a statement.
Logistics Friendly
While often tough to develop, companies like small molecule drugs — typically pills taken orally — because they're easy to ship and store.
"That's why small molecules are the only universal platform and Vividion is opening up a whole new range of possibilities for small molecules," Miralles said. "In terms of access to the world, you never will be able to have in a village in Africa anything that is not a small molecule."
Another selling point is Vividion's technology enables proteins to be studied inside their native systems — in whole cells, tissues and organisms. In contrast, most drugs are screened in artificial non-native settings, so there's risk that test results won't translate to animal or human models.