BIOTECH: ILLUMINA SVP TACKLES CHALLENGES
Making Machines Work for Co., Clinic
Sunday, March 18, 2018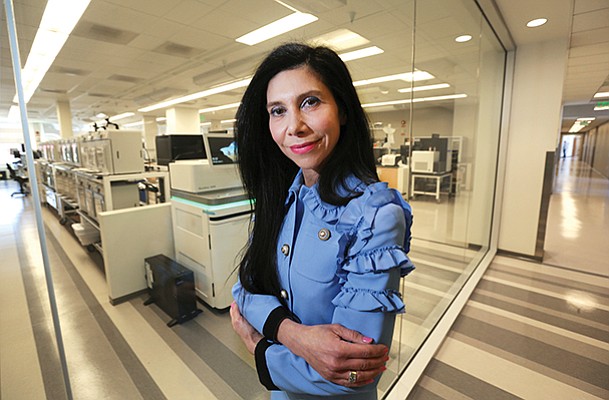 San Diego — Susan Tousi doesn't practice medicine, unlike many in her family tree. But Illumina's senior vice president of product development is making her mark on health.
In a brightly lit corridor at Illumina's sprawling San Diego headquarters, Tousi stands in front of a machine the size of an industrial office printer, separated by a glass pane. The NovaSeq 6000, which her team architected, does infinitely more than make copies.
SUSAN TOUSI
Title: Senior vice president of product development, Illumina
Education: B.S. Engineering Science, Pennsylvania State University. MBA, University of California, Los Angeles
Honors: Recently named to the National Academy of Engineering; speaker at March 13 SXSW panel titled Inside Genomics: "Your Future, Your Fate."
Family: Married with three sons
She says the system architecture will bring Illumina closer to the holy grail of a $100 cost to decode the human genome. That would be one-tenth the 2014 milestone of $1,000, potentially revolutionizing diagnosis and treatment.
Already analysts and the company credit NovaSeq, launched a year ago, with helping boost Illumina's bottom line. The company reported $2.75 billion in 2017 revenue, a 15 percent year-over-year increase.
Reaching the Clinics
In the last decade, Illumina's machines drove down the cost of sequencing, spurring a wealth of medical research. An even greater price reduction could make genetic screening standard in clinical care, meaning more sales from hospitals and clinics.
To get there, besides lowering the cost, the company must overcome a complicated regulatory landscape. But there's clear need: A genomic profile can identify a potentially fatal heart condition, for instance.
"To think we can take this cutting-edge technology and science, and bring it together where it's going to revolutionize medicine and bring insight into places that have been dark space up until now, it's amazing," said Tousi during an early March interview.
Essentially, she's at the fore of mainstreaming sequencing technology. She joined Illumina in 2012, and since 2015 has overseen the company's global engineering, sequencing applications, software and informatics initiatives.
Observers say Tousi brings an engineer's ability to unravel complex technical issues, coupled with a consumer products background. She's big on ease of use — critical for wider genomics adoption. This would make Illumina, which has a $36.7 billion market cap, even larger.
"Being experts in the genome when you can only talk to professors and researchers doesn't do much for the marketplace. But making it so doctors can scale it on a regular basis and utilize the information and expand it into treatment, that takes a very different capability, which she has," said Phil Faraci, the former COO of Eastman Kodak and Tousi's prior boss.
He added Tousi is the rare engineer with a knack for leadership.
"Engineers have that technical understanding, but it's harder when you have to get them to make a decision, and it's harder when you have them work across functions or other areas. She does that very well," he said.
For Tousi, Illumina's push into the clinic hits home. She comes from a long line of doctors, including her late father, who saw the need for Illumina's work. That includes cancer screening and noninvasive prenatal testing, which screens for chromosomal conditions using a tube of blood.
"To see his eyes light up and be excited about the new level of information we're bringing to the table I think was just…" Tousi said, trailing off.
The two eldest of her three sons want to pursue medicine and see genomics' clinical potential, she said. Tousi joked that being a doctor "skips a generation."
Engineering Discovery
Growing up in Towson, a suburb of Baltimore County, she thought of going the physician route. Engineering entered her radar thanks to a calculus teacher, who spotted her talent for complex problem solving. He showed her the field encompasses computers, shattering her preconceived notions of only hard-hat engineering jobs.
Tousi applied to study medicine at Pennsylvania State University, but switched to engineering. She graduated student marshall (valedictorian) of the entire engineering school in 1991.
At Hewlett-Packard, Phogenix Imaging and previously general manager and corporate vice president of Eastman Kodak, she built an expertise in digital imaging and designing consumer products. Accessibility was all-important.
Democratizing Sequencing
Tousi brought that thinking to Illumina's iSeq 100, a one cubic foot machine — small by sequencing standards. Unveiled in January, it's designed for self-installation in under one hour. The $20,000 price tag is significantly less than other Illumina offerings as part of the company's bid to democratize sequencing.
"We really focused on how do you make this such that it's the first instrument that a customer can set up and run themselves," she said.
At the high-end, NovaSeq 6000 packs much more horsepower and thus runs almost $1 million. The architecture, combined with coming upgrades, give Illumina "line of sight" on a $100 genome, Tousi said.
For perspective, Illumina in 2014 hit a milestone of reducing the cost to $1,000 per genome. The expense was about $10 million a decade prior.
NovaSeq isn't limited to human genomes. A good example: Sequencing plants could lead to drought-resistant crops.
Aside from NovaSeq's power, simplicity was stressed. It requires eight steps to sequence a genome, down from 38 in older technology — not to mention other features aimed at large-scale genomics projects.
"The fewer touch points the better. And usually make it really easy for the user means it's a lot more complicated for the people who are designing the product," Tousi said with a laugh.
Tousi's track record of easy to set up and use printers bodes well in an industry notorious for user experience blindspots, said Ron Ribitzky, a national consultant in precision medicine and health informatics.
Still, he said Illumina faces barriers in its quest for sequencing being the norm in clinical care. A major one is identifying which medical areas it will focus on first, made even trickier considering many patients have two medical conditions or more simultaneously, called comorbidity.
Other challenges: incorporating genomics data into heath records, physician education to make sense of genomics results and varying data rules, such as Europe's soon-to-take-effect General Data Protection Regulation.
Tousi acknowledged hurdles, but Illumina has made regulatory strides. A major one came last summer: U.S. Food and Drug Administration approval for what's called "a companion diagnostic test" in aiding doctors who are deciding how to best treat cancer patients.
Cancer Technology
Illumina is all about cancer technology. More than a year ago, it formed a new company, GRAIL, to develop a blood test to identify early-stage cancers.
Tousi said Illumina's cancer screening imbues her with "a moral obligation to go faster" in clinical applications. Further drive comes from a greater representation of women in STEM (science, technology, engineering and math).
While studying engineering at Pennsylvania State University, Tousi said some classmates didn't want a woman on their team.
Seeing the need for a support system, she became president of the university's chapter of the Society of Women
Engineers.
At Illumina, she builds diverse teams, she said, and lends a hand to causes promoting STEM among girls.
Aside from being a top executive at Illumina, Tousi last month was elected to the 83-member National Academy of Engineering, which includes the likes of Amazon CEO Jeff Bezos.
She's doing her family proud — even without a stethoscope.
"I'm fulfilling that promise of being able to do something that improves health. Not as a doctor, which was my first route, but in my own way, which is bringing the technology to the medical community."