NONPROFIT: COTA HELPED GROW ORGANIZATION TO 13 CLINICS, 700 STAFF
Health Care Heroes: Leader Builds Legacy at North County Health Services
Monday, March 12, 2018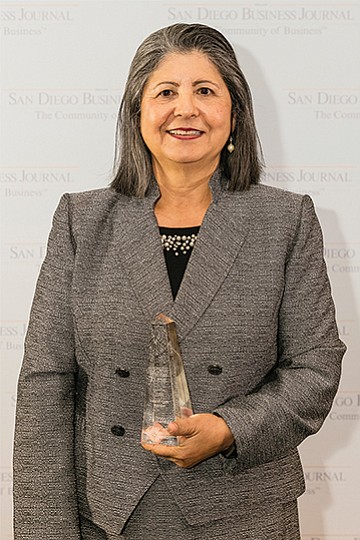 San Diego — Irma Cota recalls the beginnings of her health care career in the most simple way: As a young farmworker traveling the Central Valley with her sister, mom and aunt, she was one of the few workers who fluently spoke English and Spanish, so she frequently was put into a role as an interpreter.
Cota is retiring this month after 20 years as the president and CEO of the nonprofit North County Health Services. She spoke of her roots at the San Diego Business Journal Health Care Heroes event, where she was honored with a Lifetime Achievement Award.
Over time her translating duties put her in front of the kinds of people who pushed and nudged her into new opportunities, such as going to Imperial Valley College, where the dean paid for her transfer application to San Diego State University. With every new opportunity, she found herself in the same dynamic.
"All I ever wanted to do was help people," she said. "Public health was an easy choice; one I've made over and over."
Cota has been president and CEO of NCHS since 1997, when the nonprofit was run out of a garage.
Serving 65,000 a Year
NCHS now provides health care in North County to more than 65,000 people a year through more than 300,000 patient visits. The vast majority of patients are uninsured, and more than 90 percent live in poverty. NCHS has 13 clinics, including one in Riverside County, and provides comprehensive medical, dental and mental health services. NCHS also has health education and social support services
During her tenure, NCHS has grown from an annual budget of $12 million to $80 million and staff or more than 700.
Cota serves on the board of The Elizabeth Hospice, Integrated Health Partners and the Latino Coalition for a Healthy California. She also is on advisory boards for City National Bank and Cal State University San Marcos and SDSU.
Her quest for learning never faded. She has a master's degree in public health from SDSU and certificates in health administration from Johns Hopkins University School of Public Health, UC San Diego School of Management, Harvard Business School of Management and the UCLA Anderson School of Business.
Recognitions
Her many honors include in 2016 when SDSU awarded her with the Cesar Chavez Legacy Award and being recognized as a Latino Healthcare Champion and a San Diego County Public Health Champion.
Cota also recently received the National Association of Community Health Centers' 2017 Outstanding Achievement Award.
Cota in mid-February was honored at the Sheraton Carlsbad Resort & Spa in an event entitled: "Celebrating the Legacy of Irma Cota."