BIOTECH: IT'S STILL LOW FOR MEDTECH PEERS; CO. INKS INTERNATIONAL DEALS
Some See Tandem's Stock Price Continuing on Its Climb
Sunday, June 24, 2018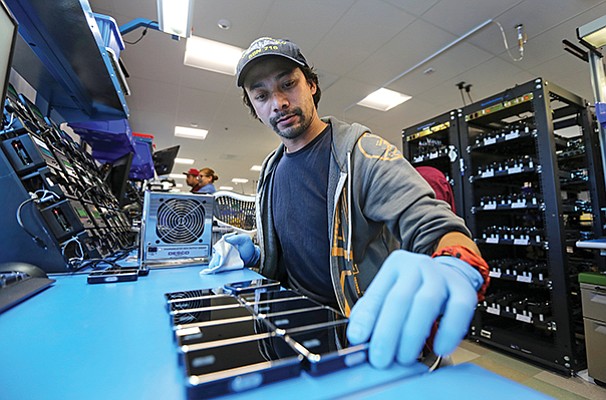 TANDEM DIABETES CARE
CEO: Kim Blickenstaff
Revenue: $27.3M in Q1; $19M in Q1 2017
Net income: $15.5M loss in Q1; $21.2M loss in Q1 2017; company predicts break even on cash flow by end of 2019
No. of local employees: About 450
Headquarters: Torrey Pines
Year founded: 2006
Stock symbol and exchange: TNDM on Nasdaq
Company description: Develops medical devices and technology for the treatment of diabetes.
San Diego — This comeback story appears to have legs.
Tandem Diabetes Care's stock was trading at $2.54 a share at the beginning of the year, reaching $19.62 on June 20. Can the San Diego maker of touchscreen insulin pumps continue its upward trajectory?
Analysts are bullish.
"Despite TNDM's very strong performance year-to-date, the stock still trades at a discount (compared) to high-growth medtech peers," said Oppenheimer in a June 18 research note.
That note said Tandem is well positioned to ramp up internationally, since the company inked deals with former distributors of Johnson & Johnson's pump business, which exited the market last year, sending a portion of customers to Tandem.
The t:slim X2 Insulin Pump
Tandem is known for the t:slim X2 insulin pump, which can be updated with new software via a personal computer. The company, which plummeted two years ago following insurer UnitedHealth Group inking a major deal with competitor Medtronic, is in the midst of a turnaround, on the strength of its product pipeline and increasing sales.

Oppenheimer said Tandem's gross margin trails that of competitors, but the analyst expects meaningful improvement with infusion set sales rising. Last year, Tandem launched an infusion set, after losing out from distributors buying sets from another supplier.
Per first quarter results posted in April, Tandem's gross margin stood at 42 percent, versus 36 percent during the same period the prior year. Oppenheimer estimated gross margin at 53 percent next year.
Another reason gross margin should climb, states Oppenheimer, is scale from Tandem upping its manufacturing footprint, including a 50,000-square-foot facility on Barnes Canyon Road earlier this year becoming fully operational.
Operating loss for the first quarter amounted to $15.5 million, compared with $21.2 million for the same period of 2017. By the second half of 2019 Tandem intends to reach cash flow break-even as it works toward profitability.
Launching Two New Products
Tandem will be launching two new products over the next 12 months, including "what should be the best automated insulin delivery system in the market upon launch," stated Cowen Equity Research in a June 13 note.
Prev Next