PROPERTY: HIGH-RISE PROJECTS MAKE SENSE IN EXPENSIVE MARKET
Power of Towers Shapes Downtown Rental Scene
Monday, August 27, 2018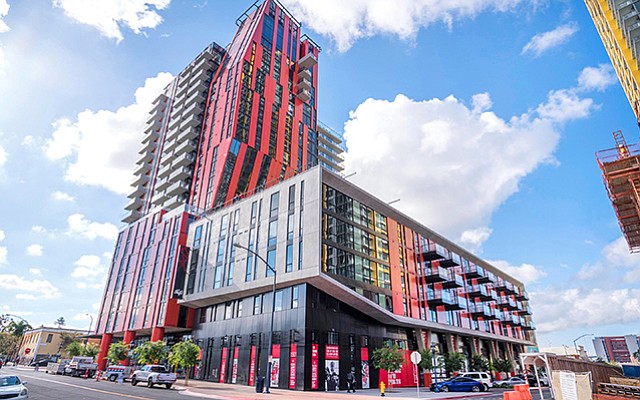 San Diego — Take a look around downtown San Diego and new apartment towers — previously a rare sight — are sprouting up like never before.
Prior to 2003, there was only one market rate apartment tower of more than 100 apartments in the entire county, according to CBRE.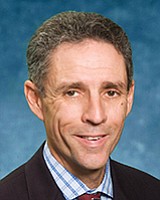 That one was AVA Cortez Hill, a 299-unit complex at 1399 Ninth Ave., built in 1973.
Since 2003, nine apartment towers have been built — all but one in downtown San Diego, according to CBRE.
They include Towers at Costa Verde, Allegro Towers, Vantage Pointe, Strata, Ariel Suites, Pinnacle on the Park, The Rey, Alexan ALX and Shift.
As of mid-August, 10 are under construction, and more are in the planning stages.
"This is something that 15 years ago, you wouldn't have seen nor would you have thought possible," said Kevin Mulhern, a senior vice president of CBRE in San Diego.
"San Diego, in spite of itself, is finally becoming a big city," Mulhern said. "It's part of the maturation of the city."
The Market
The reasons for the boom are partly rising rents, which are high enough to cover construction costs, and a ready market of baby boomers who are downsizing, millennials, and out-of-towners who want the active lifestyle of living in an urban environment but don't want to plunk down more than $1 million to buy a condo.
"As San Diego has grown, particularly with what's happened in downtown and what we're starting to see in UTC, we finally have a big enough rental pool of renters by choice," Mulhern said. "These are people with a lot of disposable income."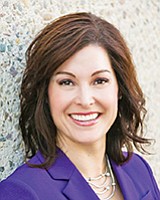 Darcy Miramontes, executive vice president of JLL in San Diego, said, "You're likely seeing high rise construction specifically downtown because the land that is available lends itself to high-rise construction. There isn't enough land downtown to build a garden community with parking."
Buildings Go Up, Not Out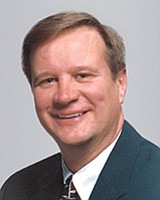 Downtown property is so expensive that developers "go up because they can't go out," Miramontes said.
Construction of Petco Park, which opened in 2004, also has been a factor, sparking a surge of building near the ballpark in East Village.
"I think it all would have happened eventually but I think that jump-started it by 20 to 25 years," said Tim Winslow, senior managing director of Cushman & Wakefield. "There were a lot of warehouses and parking lots — things that were over 40 years old that were under-utilized."
The downtown convention center also has been "a major driver downtown," Winslow said.
"I hope the next phase gets going so they continue to bring in additional money from the outside," Winslow said.
Plans to expand the convention center stalled in August when supporters failed to collect enough signatures on initiative petitions to put the expansion on the November ballot, according to a random count of signatures.
Supporters hope that a full count of initiative signatures to be completed by Sept. 20 will tally enough signatures to make the measure eligible for the 2020 election ballot.
Construction defect lawsuits also have made some developers wary of building new condominium projects.z
Until the Great Recession, residential construction downtown was about evenly split between condominium and apartment projects, said Brad Richter, Civic San Diego vice president of planning.
It's a Rental Market
"Since the recession, most of the housing product has been rental, with the exception being the Bosa Development condo towers along the western bay front of downtown," Richter said.
Prior to 2003, rents simply weren't high enough to justify building apartment towers, said Mulhern of CBRE, adding that the average monthly rent downtown was $1,436 in 2003 compared with $2,305 in 2018.
"We've only hit those kinds of rent levels downtown in the last five years," Mulhern said.
The most notable high-rise project downtown prior to 2003 was the Harbor Club across the street from the convention center — a condominium project that was built in 1992. It got caught up in the savings and loan collapse of the 1990s and went into bankruptcy at one point.
By the early 2000s developers started looking at downtown as a good location for apartment towers, then the recession hit.
"Coming into the recession, there were plans for a lot of towers that got scaled back," said Dana Kuhn, a lecturer at San Diego State University.
Some developers that had planned to build concrete and steel towers opted for less expensive wood-frame projects of five to six stories, Kuhn said.
"For five or six years, no one was building high-rise. The rents weren't there," Kuhn said. "Those projects that were planned in 2004 or 2005 of 20 or so stories, all of a sudden made no economic sense. From 2005 to 2010, people scaled back their ambitions."
Construction Costs
The construction cost per square foot of a high-rise tower is nearly double the costs of a smaller building, Mulhern said.
Betsy Brennan, president and CEO of the Downtown San Diego Partnership, said the recent boom in downtown apartment tower construction "follows a national trend in which the desire for a vibrant, walkable, 24/7 community drives the demand for urban living."
"San Diego is attractive to both young and educated professionals as well as retiring baby boomers, which has provided a compelling story to developers who have chosen to invest in our urban core," Brennan said.
Where in the past, the pattern of residential development in San Diego has been to spread out, "This cycle of real estate development has been much more about urban development than suburban," Mulhern said.
The downside of the construction boom is that there are few places left to build.
"You almost cannot find a property south of Market to build on between the Gaslamp Quarter and East Village," said Winslow of Cushman & Wakefield. "Every property down there's spoken for. Now, you're forced to look at other areas north of Market (Street)."