ENGINEERING: FIRM DOES ANALYSIS, DESIGN AND SOFTWARE
Finding Weaknesses Is a Strength of ATA
Monday, August 20, 2018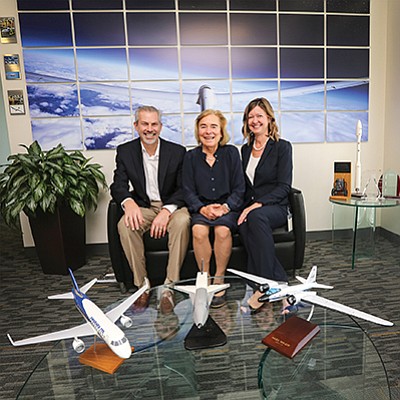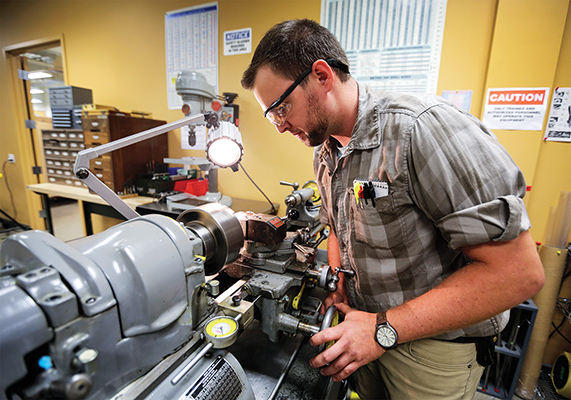 San Diego — Shake, rattle and roll.
That is an admittedly nontechnical explanation of what ATA Engineering Inc. does.
The business, which has its main office in the Sabre Springs business park near Poway, has a keen interest in what motion does to vehicles such as aircraft, missiles, rocket engines and satellites.
The company is recognized for what engineers call modal testing. In the words of General Manager Tom Deiters, that is to "characterize the dynamics of a structure by vibrating it and measuring the responses." The work validates computer models of how the structure might withstand the forces of motion.
ATA bills itself as a world leader in the field.
In addition to testing, the company offers a variety of design and engineering analysis services. All told, ATA's work supports roughly 150 employees and brought in $34.6 million in revenue last year.
ATA ENGINEERING INC.
President: Mary Baker
Revenue: $34.6 million in 2017; $30 million in 2016
No. of local employees: 85
Investors: ATA is employee owned
Headquarters: Sabre Springs
Year founded: 2000
Company description: Engineering company with a emphasis on aerospace
Parks and Rides
ATA serves high profile clients such as NASA and other federal customers, though California theme parks are among its most secretive customers.
Engineering prowess has produced growth for ATA, even though a good number of clients may need the company for only a few years, take a break and then pick up ATA's services again.
Clients come back, executives said.
Revenue grew from $24.1 million in 2015 to $30 million in 2016, and then to $34.6 million in 2017.
The company has seven offices near aerospace hubs and major U.S. government facilities nationwide. ATA is working to grow its outlying offices, said President Mary Baker.
ATA and its predecessor company hit on theme parks — or themed entertainment — as a market to counterbalance the highly cyclical aerospace market.
Executives preferred not to say much about that work, noting only that customers want to be discreet.
Theme park rides need to run perfectly because they carry patrons and operate on a rigorous schedule, often 16 hours per day. Operators "invest a lot upfront" in the analysis and design of such rides, said Tricia Sur, the company's lead business development executive.
Business development at ATA, by the way, requires more than a marketing background. You need to talk shop with clients such as NASA. Sur came to the job with a doctorate in computational fluid dynamics from Caltech. Baker also holds a Ph.D. from Caltech.
Modal Testing
Recently in its 4,500-square-foot lab, engineering interns working with ATA were subjecting a model aircraft to ground vibration testing. Actuators at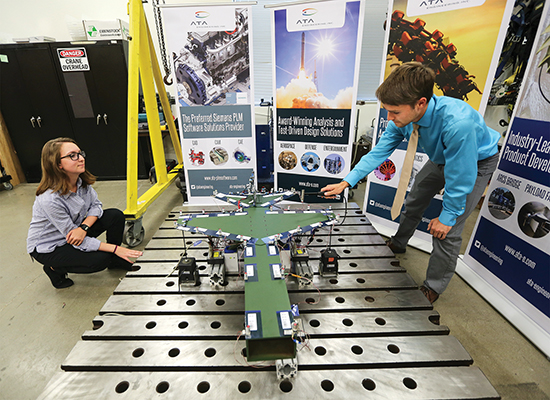 the tips of each wing were sending vibrations into the structure, and a student intern tapped a wing with a hammer to create other vibrations. Sensors harvested data, which was displayed on an operator's computer display.
ATA has offered its specialty, modal testing, to General Atomics Aeronautical Systems Inc. as well as L-3 Communications. The latter adapted a Boeing 747 aircraft to carry a 100-inch telescope.
Customers care about vibration because it has the potential to destroy a high-value piece of equipment such as a satellite. Worse yet, it can destroy vehicles carrying people.
In 2015, the business did vibration testing on the Airbus-sponsored Perlan 2 glider. The sailplane is designed to reach an altitude of 90,000 feet. With an 84-foot wingspan, the glider could not fit completely in ATA's test area in its Sabre Springs building. Part of the wing stuck out a freight door.
The business spent six years on the Mars Science Laboratory project, helping to put the Curiosity rover on the red planet in August 2012. "The dedicated and mission-focused work of our small business partners like ATA Engineering has been essential to Curiosity's ongoing success story," NASA Administrator Charles Bolden said a few weeks later.
ATA split off from another company, Cincinnati-based SDRC (Structural Dynamics Research Corp.) in 2000. SDRC was a pioneer in the mechanical computer aided design industry.
'Flying Start'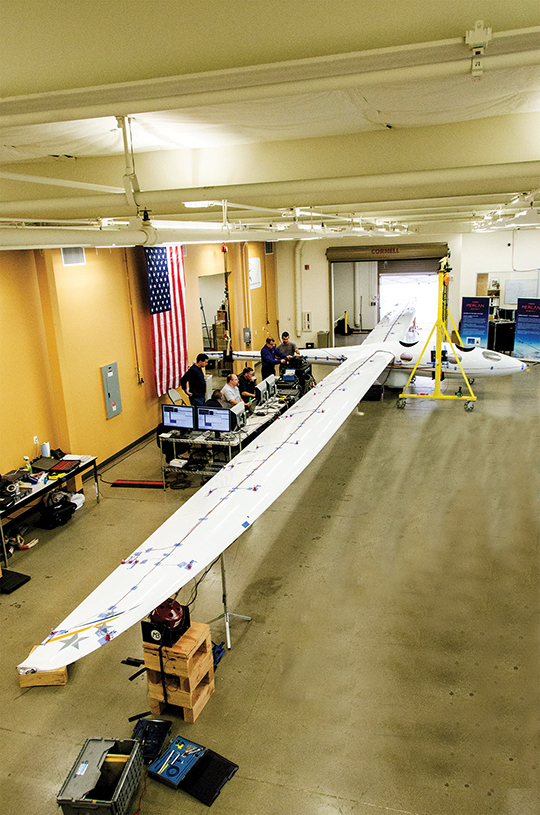 "It wasn't the normal story of a startup company," Baker said of ATA's beginning. "We had more than a full load of customer projects. It allowed us to have a flying start."
ATA is employee-owned. It departed from SDRC's model of giving each regional office profit and loss responsibility — something which, in Baker's view, created infighting. Baker said she believes her firm works better when everyone is viewed as a member of a single team.
"We want the whole business focused on the team's success," said Deiters, the general manager.
The company also gets revenue from being a value added reseller for Siemens software.
ATA makes it a point to put 10 percent of its effort into developing new engineering methods — ones that are not funded by customers. It receives some of its funding through federal Small Business Innovation Research grants.