PHARMA: VERSATILE CO. TAKES ON CANCERS, INFECTIOUS DISEASES
Partnerships, Pipeline Put Inovio in Good Position
Thursday, August 9, 2018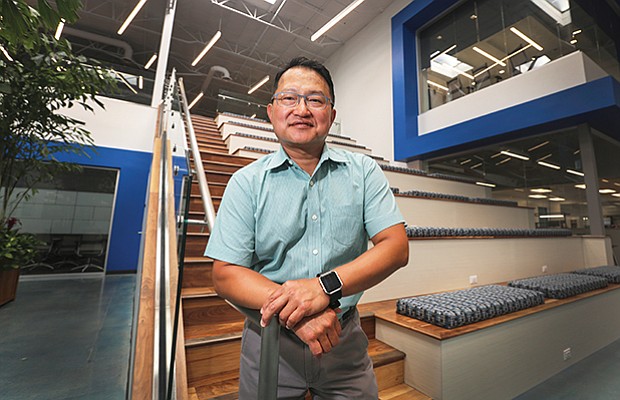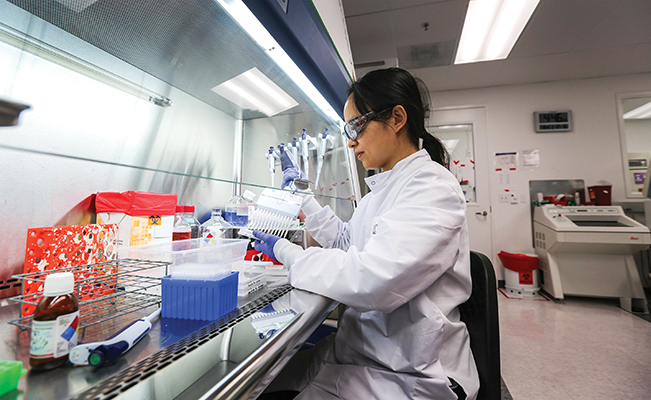 INOVIO PHARMACEUTICALS INC.
CEO: Joseph Kim
Revenue: $42.2 million in 2017 and $35.4 million in 2016
Local employee count: 165
Headquarters: Plymouth Meeting, Pennsylvania
Stock symbol and exchange: INO on Nasdaq
Company description: Inovio's lead drug candidate is designed to treat without surgery precancerous cervical lesions and cervix infection brought on by HPV, or human papillomavirus. The company has a large drug pipeline.
San Diego — Inovio Pharmaceuticals Inc. has about 300 employees, tenfold that of 2009. Most of the scaling up occurred in the last few years to support a growing pipeline of therapies targeting cancers and infectious diseases.
The majority of employees are in San Diego — 165 to be precise — but the company is based in Pennsylvania. Which explains why, CEO Joseph Kim said, Inovio flies under the radar locally.
But Inovio is one to watch, on account of recently inked deals, programs aimed at diseases like Zika and a drug in a pivotal trial that the company hopes will be its first approved therapy.

"We have a very strong pipeline and a lot of catalysts in the next 12 to 18 months," said Kim, standing in the company's manufacturing facility, part of its office in Sorrento Valley.
In Final-Stage Clinical Trial
Much rides on VGX-3100, which would be the first to treat without surgery precancerous cervical lesions and cervix infection brought on by HPV, or human papillomavirus. It's in a final-stage clinical trial.
The most common sexually transmitted infection, HPV can come and go without harm, but in some cases leads to cancer.
VGX-3100 is paired with a medical device, which coaxes the company's DNA-based products through cell membranes. A need for such technology brought the company to San Diego.
Inovio, previously VGX Pharmaceuticals, through a merger with San Diego's Inovio Biomedical Corp. in 2008 gained intellectual property at the core of its Cellectra 5PSP immunotherapy delivery device. The device bears resemblance to a ray gun found in futuristic movies, while the company has a pen-sized device for vaccines.
Bicoastal Advantage
Rather than put the company under one roof, Inovio opted for bicoastal, which Kim said helps the company draw the best East Coast and West Coast talent.

The arrangement was tested in 2016, when the U.S. Food and Drug Administration slapped VGX-3100 with a clinical hold prior to starting its phase 3 trial. Regulators questioned the shelf life of Cellectra 5PSP and requested more data.
Kim called the event an all hands-on affair, complete with late nights and working on holidays. Close company collaboration, he said, lifted the hold last year — and the company has made up much of the time lost by the delay.
"Our goal was to get off hold the first time, which we were able to do," he said. "Working together brought the company together even further."
In 2020, the company expects to report VGX-3100 results. The candidate is the most significant valuation driver in the company's portfolio, given a fairly large market with sparse competition.

Caution Over Combo Therapies
That was the take of Gregory Renza, an analyst with RBC Capital Markets. While bullish on the company's stock, he noted others' recent failures in combo therapies — a category that includes Inovio — have given investors pause.
Still, he said an expansive pipeline provides plenty of "shots on goal." Also in development are phase 2 programs targeting head and neck cancer, bladder cancer and glioblastoma — along with various vaccines.
"You can spread the risk in your portfolio by focusing on a variety of therapeutic areas," Renza said, calling 2018 an execution year, and much will be revealed over the next 18 months.
Besides what's coming, Kim pointed out a slew of partnerships in recent years, including with Genentech, Regeneron, Medimmune and ApolloBio. So, Inovio took in some revenue while hoping for bigger bucks from drug sales.
In March, the company reported $42.2 million in 2017 revenue, up from $35.4 million in 2016.
Beijing biotech ApolloBio gained exclusive rights to VGX-3100 in greater China through a licensing deal valued at $43 million, finalized in March. This places Inovio alongside San Diego biotechs gaining a foothold in China via partnerships, following friendlier Chinese regulations.
In 2015, AstraZeneca subsidiary Medimmune and Inovio agreed to a development deal worth up to $727 million, centering on cancer vaccine candidates.
The company has also hauled in grant and government dollars, as a result of vaccines in development, an area out of fashion with big pharma. But Inovio believes its platform is uniquely positioned to unlock treatments.
DARPA $45M Contract
Of note, the company in 2015 won a $45 million contract from the Defense Advanced Research Projects Agency to develop products and a DNA-based vaccine against Ebola.
In April it was announced Inovio could earn up to $56 million for the treatment of Middle East Respiratory Syndrome, or MERS, and Lassa fever.
Early data for the company's Zika vaccine has shown promise, putting the company at the forefront of efforts to prevent future outbreaks.
The company holds more than 1,000 patents, spanning drug development and medical devices. As an added advantage of the company's medical devices, Kim said the technology broadens and extends the company's intellectual property.
"We have 20 years of patent protection for each filing. Not only would the generic competition have to replicate our biologic products, but would need a similar delivery system, and we've pretty much cornered the market on in vivo delivery of DNA using this technology."
Kim previously developed vaccines for Merck & Co.
An immunologist by training, he holds an MIT undergraduate degree, a Ph.D. in biochemical engineering from the University of Pennsylvania and an MBA from The Wharton School.
Sink or Swim
Born in Korea, Kim came to the U.S. at 11 years old, only knowing three words of English. The experience taught him to be entrepreneurial.
"It was a great experience of sink or swim. It was being totally immersed," he said.
Now Inovio finds itself in new territory: knocking on the door of commercialization. Motioning toward empty space in a manufacturing room, Kim said there's room to grow.
CORRECTION: An earlier version of this story had the incorrect company name for Inovio Pharmaceuticals Inc. It has been updated to reflect the correct name.