Facebook Awards UCSD Team $75,000 For Cybersecurity Research
Thursday, August 9, 2018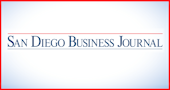 A team of two UC San Diego researchers was among 10 groups recently awarded grants from Facebook as part of its Secure the Internet program, which aims to spur development of cybersecurity technology.
Winners were selected by a committee of Facebook security engineers that reviewed the submissions, which detailed research proposals with the potential to improve the security, privacy and safety of internet users.
Grants awarded ranged from $60,000 to $100,000.
UCSD computer science professors Stefan Savage and Geoff Voelker were awarded $75,000 for their proposal titled "Evaluating Security Outcomes: Applying Evidence-based Security to Improve Cybersecurity Risk."
Savage was also recognized for his research in 2017: He was awarded a five-year, $625,000 fellowship by the MacArthur Foundation, popularly known as a MacArthur "genius" award.
The researchers said they plan to study computers connected to the UCSD network to correlate "security behaviors" - such as whether the computer's software is patched, or a user has visited file-sharing sites - with cybersecurity outcomes, such as whether the computer has been hacked.
"The goal of our proposed work to provide the data and analyses is to bring large portions of cybersecurity under an evidence-based umbrella," the proposal said.
Other winning proposals requested funding for research into topics including cryptography and encrypted messages; analysis of malicious activity, including hijacked Facebook accounts; online and offline safety; post-password authentication, such as behavioral biometrics; privacy for emerging markets; and perceptual hash algorithms.
In addition to UCSD, the institutions and organizations that submitted winning proposals were Clarkson University; Cornell University and Cornell Tech; Galois Inc.; Northeastern University; Princeton University; Social Media Exchange Association; the City College of New York; and University College London.
The awards were given at a ceremony in Las Vegas during the Black Hat USA conference. Last year during the conference Facebook announced it would fund up to $1 million toward defense-based security research in 2018. Facebook said it plans to award another $200,000 later in August to the winner of its Internet Defense contest, as it has since 2014.
Reach reporter Sarah de Crescenzo at sarahd@sdbj.com.