WEALTH: IMPACT FACTORS INTO 20% OF MANAGED FUNDS
Responsible Investing A Growing Slice of Pie
Originally published April 20, 2017 at 12:40 p.m., updated April 20, 2017 at 12:40 p.m.
Investment Terms
Various terms are used, often interchangeably, to describe investments made with consideration for factors in addition to financial return. Here are a few of the most-often used.
Socially Responsible Investing
This term was among the first used to describe investing with an eye to potential societal impacts. It's often abbreviated SRI. Typically, these investments steer clear of ccompanies whose activities some consider harmful to society.
ESG investing
ESG investing: Stands for three factors that are taken into account when assembling a portfolio: environmental, social and governance. Environmental factors may include air and water pollution, energy efficiency and carbon emissions; social, diversity policies, labor standards and employee engagement; and governance, executive compensation, political contributions and community relations.
Impact investing
This is the flip side of SRI, which excludes certain stocks: impact investors choose stocks they believe are positively affecting social or environmental aspects of the world, whether they are championing a new take on clean energy or strengthening protections for workers.
Source: Morningstar Inc.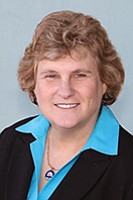 San Diego — Minding the bottom line for a business was once a simple matter of looking at the numbers...