Rady Children's Hospital, Five Other Medical Centers Form Consortium
Wednesday, September 14, 2016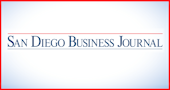 Rady Children's Hospital-San Diego has joined five other pediatric medical centers to form the Sanford Children's Genomic Medicine Consortium, a collaboration intended to speed the integration of genomic medicine into pediatric care and otherwise support development of new medical treatments and cures for kids.
The consortium announced Sept. 14 includes Sanford Children's in South Dakota; Children's Hospital Los Angeles; Children's Hospital Colorado; Children's Hospitals and Clinics of Minnesota; and Banner Children's at Diamond Children's Medical Center, in Tucson, Ariz.
The group's founding represents a "major step forward" in the partners' goal of improving medical outcomes for children, said Dr. Stephen Kingsmore, president and CEO of Rady Children's Institute for Genomic Medicine, a research organization founded by the 551-bed pediatric care facility in San Diego.
"By harnessing the talents and resources of some of the top minds in the field of pediatric genomics at leading children's hospitals across the country, we now have the opportunity to accelerate discoveries in pediatric genomics – to be at the forefront of a new era of children's medicine," Kingsmore said in a news release.
Rady Children's Hospital is the only medical center in San Diego that exclusively provides pediatric health care. It is also the region's only designated pediatric trauma center.