FROM PRICING TO PERSONAL ATTENTION, SMALL FIRMS FIND WAYS TO COMPETE WITH NATIONAL COMPANIES
Local Assets
Originally published July 28, 2016 at 3:10 p.m., updated July 28, 2016 at 3:10 p.m.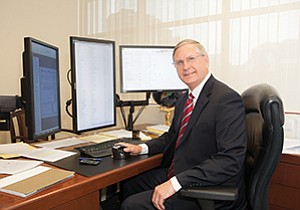 Aquisitions
Two of the 10 largest independent accounting firms based in San Diego County were acquired by larger outside
competitors at the end of 2015.
McLean, Rotherham & Co.
Seller: McLean, Rotherham & Co., founded in 1968 and based in San Diego, which had grown to 36 employees
Buyer: Squar Milner LLP, which has grown in the past 10 years to be the largest accounting and advisory business based in Southern California. In 2006, Orange County-based Squar Milner had merged with San Diego-based Peterson & Company.
CEA
Seller: CEA LLP, founded in Carlsbad by Thomas Applegate in 1979, which had grown to
31 employees
Buyer: BDO USA LLP, a national firm based in Chicago that came to San Diego in 2007. It has entered 20 new markets in the past three years.
San Diego — In the San Diego region, locally based accounting firms face challenges from international and national companies that are seeking to increase their presence here...