ECONOMIC TRENDS: LIFE SCIENCES
Life Sciences Aim to Shake Off the Ailments of a Tough 2016
Originally published December 30, 2016 at 8:10 a.m., updated December 30, 2016 at 8:10 a.m.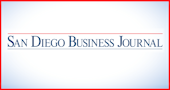 Big Wins:
• ACADIA Pharmaceuticals gets FDA approval of its drug Nuplazid, a treatment for the psychosis that often accompanies Parkinson's disease.
• DexCom Inc. gets FDA approval for Dexcom's G5 Mobile Continuous Glucose Monitoring System to determine insulin doses for diabetes patients. It was the first time in history that the FDA cleared a CGM system to replace finger-stick testing.
• ResMed Inc.'s valuation climbs billions as it shores up its position in the internet of medical things with the $800 million acquisition of software firm Brightree along with other strategic moves.
• NuVasive Inc.'s newest CEO, Greg Lucier, is setting the company on a trajectory of growth, with three major acquisitions in 2016: Ellipse Technologies Inc. for $410 million, Biotronic NeuroNetwork for $98 million and Mega Surgical for an undisclosed amount.
Concern for 2017:
It is unclear if Donald Trump's administration will be as supportive to drug developers and medical innovators as his predecessor.
San Diego — It's been a rather down year for San Diego's life science industry, no matter what the industry groups say...