Jerome Zeldis Named CMO at Sorrento Therapeutics
Monday, August 15, 2016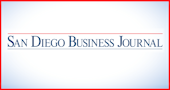 The former chief medical officer of pharmaceutical giant Celgene Corp., Dr. Jerome Zeldis, is joining San Diego's Sorrento Therapeutics Inc. as its new chief medical officer and president of clinical development.
Zeldis joins Sorrento after two decades at Celgene, where he most recently served as CEO of Celgene Global Health, as well as CMO of Celgene, where he oversaw clinical trials using Celgene's molecules. Prior to Celgene, Zeldis was the associate director of clinical research at Sandoz Research Institute and the director of medical development at Janssen Pharmaceutical Research Institute.
"We are thrilled to have a highly accomplished biotech veteran of Jerry's stature join Sorrento to guide, drive and accelerate our clinical development," said Henry Ji, president and CEO of Sorrento, in a statement. "His expertise and track record in highly successful drug development will be invaluable to progress the clinical development of our program pipeline towards FDA approval and commercialization."
The appointment of Zeldis highlights Sorrento's focus on investing in clinical development, following the company's recent $150 million round of financing led by Ally Bridge Group (completed in June), Ji said.
Sorrento Therapeutics, a biopharmaceutical company, has been quite busy this summer. The company recently announced a joint venture with China's 3SBio, a joint venture with Korean biotech CHA Biotech, and a partnership with French pharma Servier.