Evofem Inc. Raises $25 Million in Series D Round
Originally published August 2, 2016 at 3:27 p.m., updated August 4, 2016 at 1:06 p.m.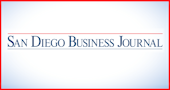 San Diego biotech Evofem Inc. has raised $25 million in a Series D round.
The new cash came from Woodford Investment Management, a UK-based asset management company headed by high-profile fund manager Neil Woodford.
Evofem will use the new funds for clinical trials and commercialization, along with expanding its current pipeline of contraceptive technologies.
Evofem makes products for women's reproductive health, including Amphora, a non-hormonal vaginal gel being investigated for contraceptive and microbicidal properties.
The company has raised at least $50 million since its inception, as the company announced a $25 million round back in 2009.
"We are pleased that Woodford Investment Management recognizes the potential of our contraceptive technology, which offers a meaningful alternative to women who desire non-hormonal contraception," said Saundra Pelletier, CEO of Evofem, in a statement. "Empowering women with access to innovative contraceptive options is the core of our business. We understand that women have changing needs regarding their reproductive choices and we want to offer non-hormonal, woman-controlled solutions."