RAF Pacifica Acquires Local Six Property Industrial Portfolio
Sunday, April 3, 2016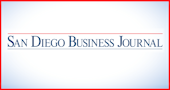 RAF Pacifica Group acquired a 277,040 square-foot portfolio of 16 buildings in San Diego County.
The firm obtained six multitenant industrial business parks in San Diego County and secured a $19.6 million loan at 50 percent leverage for the acquisition, according to RAF Pacifica's news release.
Four of these projects were obtained from a private international real estate investment firm, with the remaining two, the Oceanside business parks, from a private owner. CJ Stos of Stos Partners is a partner with RAF Pacifica Group in the transaction.
"This portfolio is a rare find in the market," said Adam Robinson, principal of RAF Pacifica Group, in the release. "The current market for quality industrial products is extremely competitive in the San Diego area."
These projects are 100 percent occupied with a total of 87 tenants. The six projects included in the acquisition are Carroll Way Industrial Park, Rancho Pacifica Business Center, Sorrento Mesa Commerce Center, Enterprise Business Center and Oceanside Business Park I and II.
Randy LaChance, senior vice president with Voit Real Estate Services; Bob Willingham, a senior vice president and partner with Kidder Mathews; John Witherall, an associate vice president with Colliers International; Josh McFayden, a senior vice president with Colliers International; and Joe Crotty, a senior vice president with Colliers International, facilitated the deal. James Ruiz and Lori Wendel with Keystone Mortgage Corp. provided acquisition financing to RAF Pacifica Group.
RAF Pacifica Group, a new company formed at the end of 2015 by Adam Robinson, Steve Leonard and Matt Burton, is a privately-held commercial real estate investment company formed to acquire, own and develop income-producing industrial and office properties.