Nominations Extended for '2016 Most Admired CEO Awards'
Friday, December 4, 2015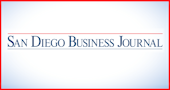 Nominations for the San Diego Business Journal's "2016 Most Admired CEO Awards" have been extended. Nominations will be accepted through December 28.
A special awards reception will acknowledge the winners and finalists on Feb. 18, 2016 at the Town and Country Resort & Convention Center, at 500 Hotel Circle N. Nominees will be judged in the categories of nonprofit organization (e.g. 501(c)3), business nonprofit (e.g. credit union), education, family-owned business, government agency, privately held company and public company. This event recognizes our local industry leaders who have taken the lead in driving their businesses to great success.
The San Diego Business Journal joins with LEAD San Diego in presenting this popular recognition program.
Nominate or order tickets online at: http://www.sdbj.com/bizevents/