CareFusion Reports $922 Million in First Quarter Revenue
Thursday, November 6, 2014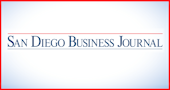 CareFusion Corp., a medical technology company in San Diego, reported $922 million in revenue for its first quarter of fiscal 2015, an 11 percent increase from the same quarter last year, according to financial statements.
"Our team started the year strong, executing well across the business, staying focused on customers and keeping us right on track for the plans we had for the year," said Kieran Gallahue, chairman and CEO of CareFusion. "We continued to build on the momentum we had exiting fiscal 2014, with the entire Procedural Solutions segment growing across the board, implementations in Dispensing Technologies progressing as expected and Infusion Systems once again delivering strong committed contracts during the quarter."
Gross profit increased 8 percent from the prior year to $457 million, with gross margins declining 1.4 percent due to product mix associated with the acquisitions of Vital Signs and Sendal and the cost of installation resources in the Dispensing Technologies business line, the company said in a statement. These pressures offset gross margin improvements from the Infusion Systems business line and an increase in volume in the Dispensing Technologies business line.
Operating income was $126 million, up 9 percent from $116 million in the prior year. Operating expenses totaled $333 million. Excluding nonrecurring items, adjusted operating expenses were $295 million, an increase of 5 percent over the prior year, primarily driven by acquired selling, general and administrative costs from the Vital Signs acquisition.

The company reported net income of $76 million, or $0.37 per diluted share. Adjusted net income increased 8 percent from the prior year period to $104 million, or $0.50 per diluted share.
For the fiscal year ending June 30, 2015, CareFusion continues to expect revenue to grow 5 percent to 7 percent on a constant currency basis compared to fiscal 2014 revenue of $3.84 billion.
CareFusion (NYSE: CFN) is a global corporation based in San Diego that develops products and services that help hospitals improve the safety and quality of care. The company develops technologies including infusion pumps and IV sets, automated dispensing and patient identification systems, ventilation and respiratory products, services for data mining surveillance, surgical instruments and an extensive line of products that support interventional medicine. CareFusion employs approximately 16,000 people across its global operations.