Northrop Grumman Delivers Unmanned Copter to U.S. Navy
Thursday, December 4, 2014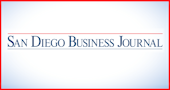 Northrop Grumman Corp. announced that it delivered the first operational large version of its MQ-8 Fire Scout, an unmanned helicopter, to its U.S. Navy customer.
The business, which bases its unmanned programs in Rancho Bernardo, announced the delivery on Dec. 3. The MQ-8C, as the larger helicopter is called, has a larger airframe and more range than the original MQ-8B, as well as the ability to carry a heavier payload. It will go through flight tests on one of the Navy's newest destroyers, the Norfolk, Va.-based USS Jason Dunham, according to the announcement.
Northrop Grumman (NYSE: NOC) is under contract to build 19 MQ-8C Fire Scouts, including two test aircraft. The business said the Navy plans to purchase 70 aircraft in all.