U.S. Chamber of Commerce Foundation to Hold 'Hiring Our Heroes' Job Fair
Friday, May 3, 2013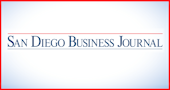 The U.S. Chamber of Commerce Foundation is hosting a Hiring Our Heroes job fair at Camp Pendleton May 7 aimed at the spouses of active duty, guard, reserves, and retired veterans.
The event is part of the Hiring Our Heroes Military Spouse Employment Program dedicated to improving the lives of working military spouses. More than 30 employers are expected to participate, the chamber said.
The companies range from America's largest employers to dozens of small companies in the region with jobs available for military spouses at all levels of experience, the chamber said.
Since its launch in March 2011, Hiring Our Heroes has helped more than 100,000 veterans and military spouses find meaningful employment. So far, more than 900 businesses of all sizes have pledged to hire 221,000 heroes toward a national goal of hiring 500,000.
The job fair, from 10 a.m. to 1 p.m., will be held at the Pacific Views Events Center, 202850 San Jacinto Road on Camp Pendleton.
— SDBJ Staff Report