Deadline Extended for San Diego Business Journal's CFO of the Year Awards
Tuesday, January 15, 2013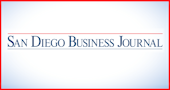 Nominations for the San Diego Business Journal's seventh annual "CFO of the Year" Awards have been extended to January 31. The event recognizes CFOs and financial managers from a cross-section of San Diego industries for exceptional performances ranging from financial management, project management and other significant contributions to their organization.
A special awards reception is slated for Thursday, March 14, and a special supplement profiling the finalists and winners will publish in the Business Journal on March 18. The nominees will be chosen in categories including: nonprofit and business nonprofit, education, privately-held companies and public companies. An independent panel of judges will select honorees and winners.
The San Diego Business Journal joins with title sponsors Wells Fargo and Oracle, along with support from gold sponsor Intercare Insurance Solutions and the California Society of CPAs in presenting this popular recognition program.
Nominate or order tickets online at: http://www.regonline.com/2013cfooftheyearawards