Space Micro Expands San Diego Manufacturing Facility
Monday, January 14, 2013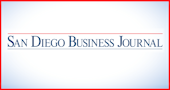 Space Micro, a locally based engineering and space technology company, recently announced the expansion of the company's San Diego manufacturing facility.
The company said the expansion is necessary to accommodate increased demand for its space products.
"This expansion enables Space Micro to process many simultaneous production contracts in our three contiguous production clean rooms," Space Micro COO David R. Czajkowski said in a statement.
The company said the expansion features upgrades to the company's receiving and inspection areas and a 200 percent increase in the clean room and environmental qualification testing floor space.
--SDBJ Staff Report