Nomination Deadline Extended for CFO of the Year Awards
Tuesday, February 5, 2013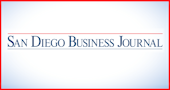 The San Diego Business Journal is seeking nominations of outstanding financial executives for its seventh annual CFO of the Year Awards. The nomination deadline has been extended to Feb. 7.
From brokering multimillion-dollar deals to managing shrinking budgets and manpower in economic downturns, financial managers are the primary overseers of the fiscal health and well-being of businesses in every industry from large government contractors to family-run companies. In the complicated world of financial management, these executives shoulder immense responsibilities in stewardship and maintenance of their organization's monetary stability.
A special awards reception will honor these elite financial managers and their guests in an event slated for Thursday, March 14. A special supplement profiling the finalists and winners will publish on March 18. The nominees will be chosen in categories including: nonprofit and business nonprofit, education, privately-held and public companies, and government agencies. An independent panel of judges will select honorees and winners.
The San Diego Business Journal joins with title sponsors Wells Fargo and Oracle, along with support from gold sponsor Intercare Insurance Solutions and the California Society of CPAs in presenting this popular recognition program.
To nominate: http://sdbj.com/bizevents/nominate-sd-cfo/
To order tickets: http://www.regonline.com/2013cfooftheyearawards