WORKFORCE: WOMEN LOOK TO TAKE LEADERSHIP ROLES ON COMPANY BOARDS
Making Diversity a Top Priority
Monday, July 23, 2012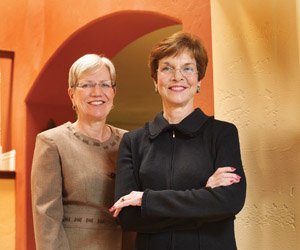 Karin Eastham wants to bring something to company boardrooms: conflict.
Creative conflict, a clash of ideas and experiences, is a key part of effective policymaking. To fully tap that resource requires diversity, something Eastham has often found missing as she looks at boardrooms from her vantage point as the only female on three of the five boards of directors on which she serves.
"Diversity of any kind is positive on boards," said Eastham, who serves on the boards of Amylin Pharmaceuticals Inc.; Illumina Inc.; Trius Therapeutics Inc.; and two biotechs outside San Diego at which she is the lone female board member.
"Board directors with diverse backgrounds provide more points of view and generate more ideas and better decisions," she said.
Eastham is not surprised that a recent survey on gender diversity reported that of local companies who have a female board member 65 percent have only one woman member.
The local study was conducted by Carrie Stone, president of cStone and Associates, an executive search and leadership consulting firm. Stone said that a 2011 report by Catalyst, a nonprofit membership organization expanding opportunities for women and businesses, found 11 percent of Fortune 500 company boards did not include females.
Falling Short
"San Diego companies fall far short of national gender diversity trends," Stone said.
Stone and other San Diegans interviewed for this article did not call for laws, such as those in Norway and several other European countries that establish quotas for female board representation.
"Gender alone should not qualify an individual to get on a board," said Julia Brown, member of the boards of Targacept Inc. and Biodel Inc., both based outside San Diego.
Eastham is looking for companies to take the initiative. "I don't believe in quotas and mandates like we are seeing in Europe, but all companies should set goals to make meaningful changes over the next five years."
Stone's local survey identified 46 San Diego public companies with all-male boards.
For this article, nine companies with at least nine board members were contacted. Cytori Therapeutics Inc. and Leap Wireless International were the only companies that addressed board gender diversity issues before this article went to press.
Cytori has a "clear-cut" corporate governance policy that "diversity is the direction we want to go," said Richard Hawkins, chairman of the board's nominating and governance committee at Cytori. "It's an issue that the committee discusses on a regular basis, and when we give a full report to the board, we talk about the need for diversity," Hawkins said.
Prev Next