Executive Profile: DeAnne Steele
Monday, February 13, 2012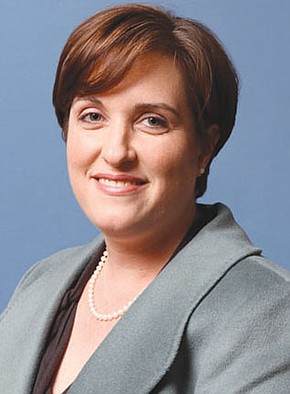 RESUME
Name: DeAnne Steele, CFA, CAIA.
Company: U.S. Trust, Bank of America Private Wealth Management.
Title: Investment executive, Western Division.
No. of employees: U.S. Trust employs 4,000.
Year founded: U.S. Trust was founded in 1853.
Education: UCLA Anderson School of Management, MBA, 1999; UCLA, B.A. in English and political science, 1994.
Age: 39.
Current residence: Scripps Ranch.
Family: Husband, Carlo Barbara; son, Cole.
DeAnne Steele is a managing director and Western Division investment executive at U.S. Trust, Bank of America Private Wealth Management, and has more than 18 years of investment experience in California and New York. Her team of portfolio managers works in concert with advisers and other specialists at U.S. Trust to identify the complex needs of high-net-worth clients and to develop customized wealth management solutions to address those needs.
BUSINESS PHILOSOPHY
Essential business philosophy: Always know why you are doing something. Knowing why you do something and knowing why your company is in the business it is in keeps you focused on what is important, both in terms of your career development and job satisfaction and in terms of why your clients are with you.
Best way to keep a competitive edge: Continue to learn, challenge yourself, and be open to feedback.
Guiding principles: When I had just graduated from UCLA undergrad and had just started my first full-time job, I attended an event at which a woman by the name of Alison Winter spoke. She was giving advice to young, female professionals. She listed some guiding principles: Always be able to support yourself; act the part before you get the part; if you want it, ask for it; if you are not going forward, you are going backward; don't be a quitter; if you don't play, you can't win; be open and direct; make everyone a part of the process, and they will be a part of the success; be open to criticism; show affection and warmth to your colleagues; when angry, wait a day; create the vision and communicate it often.
Yardsticks of success: Client and colleague satisfaction and compliments. The best compliment is when a client introduces us to a friend or family member or when a colleague refers someone to become part of our organization.
Goals yet to be achieved: Achieving the right balance between work, family, friends and taking care of myself. I think in 2012 I'm off to a better start.
JUDGMENT CALLS
Best business decision: Moving to New York upon graduation from business school. I moved across the country from California, knowing only a number of people I could count on one hand, to take a job as a portfolio manager. I worked in investments, so wanted to be in the epicenter of investments. It was an incredible experience that led to greater opportunities, including co-managing a mutual fund and being on television. It catapulted my career.
Biggest missed opportunity: I really don't have any missed opportunities. I've learned over the years to trust my instincts and try to always think, "Will I regret not doing this?" If the answer is yes, I do it. That's what led me to move to N.Y. It is also what brought me back to California.
Mentor: I have been so fortunate to have so many mentors throughout the years. The person with whom I'm working most closely with right now is Joseph Quinlan, chief market strategist at U.S. Trust. I got to know Joe when he came out west to provide market and economic updates for our clients. When he learned that I was doing the same thing, he suggested that he and I present together. It has been wonderful to work more closely with someone who is not only an expert on the markets but who has such a wonderful ability to engage an audience.
Word that describes you: Driven.
TRUE CONFESSIONS
What you like best about your job: Put me in front of a client, and I am in heaven. I really enjoy working with individuals and families, getting to know how they have been so successful, how they earned their wealth and how we can help them to achieve their goals. I'm very fortunate in that I get to meet some of the most innovative and successful people.
What you like least about your job: Anything that involves paperwork.
Pet peeves: Someone who complains without having thought through possible solutions.
Most important lesson learned: Be patient.
First choice for a new career: Baker — for as long as I can remember, every year I've baked Christmas cookies with my mother and brother. We make around 15 kinds each year and give them out to friends and family.
PREDILECTIONS
Favorite restaurant: La Bastide Bistro, Scripps Ranch
Favorite place for business meetings: Grant Grill.
Favorite vacation spot: Mammoth Lakes.
Favorite way to spend time: Playing tennis with my son and husband.