FINANCE: ORGANIZATION HAS DISTRIBUTED MORE THAN $15 MILLION IN LOANS
Taking Accion: Nonprofit Provides Boost to Small Businesses
Monday, February 28, 2011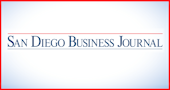 ACCION SAN DIEGO
Executive director: Elizabeth Makee.
Chairman of the board: Gordon Boerner.
Annual budget: $1,089,928.
No. of volunteers: 12.
Headquarters: Market Creek Plaza in Diamond area of San Diego.
Year founded: 1994.
Mission of organization: Provider of micro-loans, ranging from $300 to $35,000, and support services to small businesses that lack access to traditional financing sources.
Mike Colvin had a concept for a small business, a plan, and a $50,000 nest egg to launch the enterprise, a European-style delicatessen...