Photo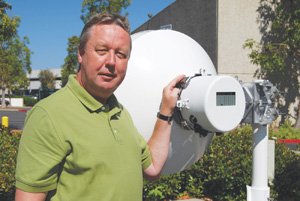 Photo courtesy of LightPointe Communications Inc.
LightPointe CEO Heinz A. Willebrand shows off a LightPointe 80 gigahertz point-to-point radio. These radios are used by carriers and enterprises for long-distance connectivity between towers or buildings. It can transmit over 200 times faster than the typical broadband connection serving a home or business.
Stories this photo appears in:
TECH: It Provides Crucial 'Bridges' for Wireless Data
LightPointe Communications Inc. doesn't have the recognition of an ATT or Verizon, but its technology is just as critical to consumers in the 21st century wireless world.