Photo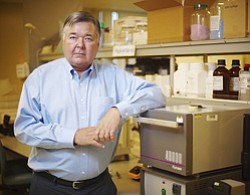 Yu Qiao and Doug Giese, (in photo), co-founded AgileNano to develop a nano-based sponge that can absorb energy when subjected to pressure. They're working with a score of investors, advisers and employees to turn the invention into a marketable product.
Stories this photo appears in:
FINANCE: Seed Track Program One of Many Resources Available to Fledgling Firms Such as AgileNano
Even inventors of breakthrough technologies need help getting discoveries from the laboratory to the marketplace. It's simply not enough to have a great idea.