SD TECHNOLOGY
Recent and archived news stories on: Alternative Energy, Automotive, Computing, Engineering, Internet, Nanotech, Software, Telecom, Wireless...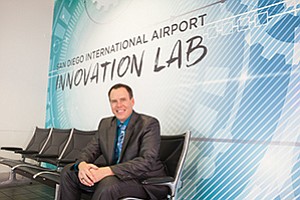 TECH: Airport's Innovation Lab Aims to Upgrade Air Travel
You overslept. The flight from San Diego to Tokyo leaves in 50 minutes, and you need to be on it. Your smart watch tells you the estimated commute from your home to the airport is 11 minutes, and the average wait at the security checkpoint is 24 minutes. You can still make it.
January 12, 2017 3:26 p.m. $$
Share