SD TECHNOLOGY
Recent and archived news stories on: Alternative Energy, Automotive, Computing, Engineering, Internet, Nanotech, Software, Telecom, Wireless...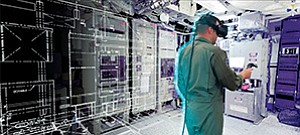 DEFENSE: From Repairs To Simulated Combat, Lab Explores the Possibilities
Everyone, it seems, wants to see the BEMR Lab. U.S. Navy scientists and engineers run the shop devoted to virtual reality and augmented reality at the Navy's research complex at Point Loma.
June 22, 2017 1:02 p.m.
Share