SDBJ SPECIAL REPORTS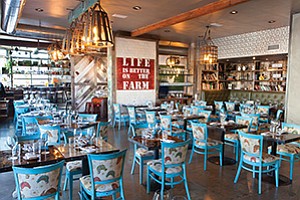 HOSPITALITY: $7M In Redevelopment Spawns Dramatic Transformation
Among the latest additions to La Mesa's burgeoning downtown restaurant scene is the full-service Farmer's Table, billed as a "farm-to-fork" eatery with a menu emphasizing locally sourced meats and produce.
April 20, 2017 1:32 p.m. $$
Share

The East County casino scene is experiencing a burst of activity.
April 20, 2017 1:28 p.m.
share »

What San Diego company shares the industrial process of the craft brewing sector, the genetic engineering know-how of the local University of California campus and the business model of a big local wireless company — all while offering a sustainable alternative to petrochemicals?
April 13, 2017 2:37 p.m.
share »

Swinerton Builders didn't see itself operating and maintaining renewable energy plants when it entered the solar industry nine years ago. As a general contractor, it just wanted to build them.
April 13, 2017 2:28 p.m.
share »

San Diego doesn't easily double for other cities, but in the new Netflix series "Ingobernable," Balboa Park's Spanish Colonial Revival architecture and the tall shadows of downtown at night make for a convincing Mexico City.
April 6, 2017 2:12 p.m.
share »

Things were already going well at the USS Midway Museum — yet another year of record attendance — when someone there noticed a detail that may point the way to future growth.
April 6, 2017 2:09 p.m.
share »

San Diego's coworking community continues to flourish, responding to demands from entrepreneurs for more flexible workspaces.
April 3, 2017 10:06 a.m.
share »

A group of millennials is edging its way into the startup community's leadership, reshaping San Diego's startup culture and filling a void in the region's business community.
April 3, 2017 10:04 a.m.
share »

Picture this: you're graduating college in the spring of 2008. You have no job, no prospects, and looming student loan payments that will drain your bank account in a matter of months.
April 3, 2017 10 a.m.
share »

A recent report by the consulting firm McKinsey & Co. noted that the gross leasable area devoted to food and beverage outlets in U.S. retail centers could rise to about 25 percent by 2020, compared with just 10 percent today.
March 23, 2017 2:07 p.m.
share »

S ome people conduct business over coffee. Chuck Patton and Jeff Taylor just engineered a mutual career switch that both coffeehouse owners say came at the right time in their lives.
March 23, 2017 2:04 p.m.
share »

A community development bank that serves low- and moderate-income areas in San Diego has been thrown a lifeline by an investor with an eye for troubled banks with potential.
March 16, 2017 3:23 p.m.
share »