SD SERVICES
Recent and archived news stories on: Accounting, Advertising, Consulting, Jobs, Food, Insurance, Law, Printing, Public Relations, Security...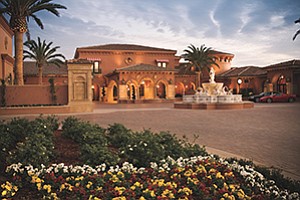 TOURISM: The 88% Share Being Bought Is Valued at $230 Million
Private equity firm Blum Capital and the parent of Fairmont Hotels & Resorts are acquiring a majority stake in Carmel Valley's Grand Del Mar resort for a reported $230 million.
April 3, 2015 1:46 p.m. $$
Share

EDUCATION: College's Programs Try to Provide A Skilled Workforce
Six students huddled around a set of small boxes in a dark MiraCosta College classroom. Each of the boxes projected a rainbow of light, part of an optics lab to train potential engineers.
The University of California San Diego said its management school will offer a "Mindful Executive" program, a nondegree course series to mentor business leaders on fostering workplace compassion, improving mental intelligence and dealing with difficult conversations.
The Uptown Community Parking District has partnered with the UC San Diego Health System and the Hillcrest Business Association to pilot a project that aims to shift the demand for parking spaces during weekday lunch hours.
By Tarcy Connors
May 18, 2015 4:51 p.m.
The Rady School of Management at University of California, San Diego, has been ranked 1st in San Diego, 2nd in California and 33rd globally for its Executive MBA (EMBA) program by The Economist magazine.
By SDBJ Staff
May 17, 2015 3:59 p.m.
The San Diego County Bar Association wants us to be civil.
EDUCATION: He Was Campus Director In Tampa Previously
DeVry University announced the appointment of Gregory Pace as president of its San Diego campus.
By Tarcy Connors
May 15, 2015 3:35 p.m.
Jack in the Box Inc., parent company to its namesake quick-service chain and to the Qdoba Mexican Grill chain, reported net earnings of $23.0 million or 60 cents per diluted share on revenue of $358.1 million during the company's second quarter, ended April 12.

DeVry University announced the appointment of Gregory Pace as president of the San Diego campus.
By Tarcy Connors
May 12, 2015 11:32 a.m.

San Diego-based AMN Healthcare reported continuing positive financial results, with a 60 percent year-over-year spike in net income.
San Diego-based CyberUnited and New York-based LIFARS said on May 4 that they formed a security consulting joint venture, CyberUnited LIFARS.
Tom Voss has been named as president of Manchester Hospitality Group, a subsidiary of San Diego-based Manchester Financial Group.
Sempra Energy reported first quarter 2015 earnings of $437 million, or $1.74 per diluted share, up from $247 million, or $0.99 per diluted share, in the first quarter of 2014.
Bridgepoint Education Inc., a San Diego-based provider of postsecondary educational services, reported revenue of $142.5 million for the first quarter of 2015 compared to $157.3 million for the same period in 2014.
By Tarcy Connors
May 5, 2015 1:28 p.m.
MiraCosta College is set to celebrate the official open house of its Technology Career Institute facility at 2075 Las Palmas Drive in Carlsbad.
Bill Simon is an attorney who has always looked to provide clients with more than billable time.
By Randy Frisch
May 1, 2015 4:36 p.m.