SD MANUFACTURING
Recent and archived news stories on: Aerospace, Agribusiness, Chemicals, Electronics, Energy, Fabrication, Industrial, Plastics, Textiles...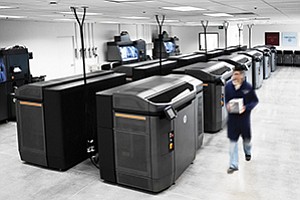 Complex Printers Capable of Fusing Parts; Forecast 3D Tackles Jobs in Aerospace, Biomedical and Automotive
The new face of manufacturing in San Diego County sits inside a low-rise building at the end of a cul-de-sac next to McClellan-Palomar Airport.
Medical device and surgery company NuVasive has launched Modulus XLIF, titanium implants that are 3-D-printed, expanding the company's surgical offerings.
Specialty chemical producer WD-40 Co. reported net income of $52.9 million, or $3.72 per diluted share, on revenue of $380.5 million for its 2017 fiscal year, which ended Aug. 31.
Arcturus Therapeutics Inc., a small local biotech that reversed its way into the public markets a few weeks ago, has struck a comprehensive research deal with pharmaceutical giant Johnson & Johnson.
The U.S. Navy awarded Northrop Grumman Corp. a $15.2 million contract modification to integrate specialized radar equipment into its Fire Scout unmanned helicopter.
Carlsbad drugmaker Ionis Pharmaceuticals has earned $10 million from its Big Pharma partner Biogen for taking one of its experimental drugs to the clinic.
Cubic Corp. received a $5 million contract to supply its GATR portable satellite dishes to New Zealand's military services.
Last year, a top San Diego executive snatched up a once-failed drug from pharma giant Sanofi and formed a new biotech startup around the medicine.k
Local biotech AnaptysBio is capitalizing on its skyrocketing stock performance this week with an announcement that the company plans to raise $99 million in a stock offering this month.
Innovative Industrial Properties Inc., an investment company that aims to buy buildings and lease them to growers of medical marijuana, announced Oct. 12 that it is looking raise $15 million by selling 600,000 shares of preferred stock in the company at $25 per share.
The FDA gave San Diego company NuVasive expanded 510 (k) clearance for the company's Precice system, which treats patients with limb length discrepancy and deformities.
Jenna Ryan, CEO of San Diego-based Uqora LLC, is one of 10 finalists for the U.S. Small Business Administration's InnovateHER Business Challenge.
The stock price for San Diego drugmaker AnaptysBio has more than doubled in a matter of hours following news that the company's experimental drug performed well in a recent study.
Middle school students got a glimpse of life on the factory floor during Manufacturing Week in early October.
Northrop Grumman Corp. will build three of its high-flying surveillance aircraft for Japan.
Agriculture values last year in San Diego County grew by 2.63 percent to about $1.75 billion, after a two-year decline.
Prev Next