SD MANUFACTURING
Recent and archived news stories on: Aerospace, Agribusiness, Chemicals, Electronics, Energy, Fabrication, Industrial, Plastics, Textiles...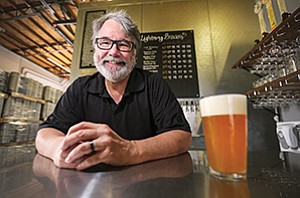 Crowded Market, Limited Shelf Space and Other Factors Force Brewers to Have Solid Business Strategy
Brewers like Jim Crute, who has owned and operated Poway's Lightning Brewery for the past decade, are finding that this is a critical time to assess their place in a craft beer industry where growth is slowing, and where retail shelf and tap space is getting increasingly tough to conquer.
April 27, 2017 12:43 p.m. $$
Share
General Dynamics NASSCO builds ships for two markets: the U.S. Navy and the commercial market. But now it's doing preliminary work for a third customer.
April 27, 2017 2:18 p.m.
share »
The five highest-paid executives at Illumina Inc. each pulled in over $2 million in compensation last year, with an average of $4 million each.
April 26, 2017 3:11 p.m.
share »
Tony Gwynn museum, Petco presence and even Sublime's music keep brewer ahead of the game.
April 25, 2017 5:47 p.m.
share »

Robert K. Julian, chief financial officer of Callaway Golf Co., has left the company after less than two years, Callaway Golf (NYSE: ELY) announced on April 25.
April 25, 2017 11:48 a.m.
share »
San Diego Gas & Electric Co. said it signed contracts for five new lithium-ion battery storage facilities, meant to store electricity from wind, solar or fossil fuel plants for future use.
April 23, 2017 1:04 p.m.
share »

A black dog tears through the lobby of Cali Bamboo's corporate headquarters in Sorrento Valley, nails scrabbling across the hardwood floor.
April 20, 2017 12:32 p.m.
share »

The two local founders of Goverre, a maker of to-go wine cups, will pitch to celebrity investors this Friday on ABC's hit TV show Shark Tank.
April 17, 2017 4:40 p.m.
share »
San Diego solar company OneRoof Energy continues to wind down its operations, this time with the resignation of its CEO David Field and the settlement of an arbitration claim.
April 14, 2017 11:43 a.m.
share »

Just eight months after founder Jack White and other key executives departed San Diego's Ballast Point Brewing & Spirits, their new venture, Cutwater Spirits, has already made its own mark in the burgeoning world of distilled craft alcoholic drinks.
April 13, 2017 1:44 p.m.
share »
General Atomics Aeronautical Systems Inc. is working to widen its customer base for its Predator family of unmanned aircraft.
April 12, 2017 6 p.m.
share »
Chemical maker WD-40 Co. reported second quarter net income of $12.4 million on net sales of $96.5 million. Its second quarter ended on Feb. 28 and the business reported financial results on April 6.
April 11, 2017 4:02 p.m.
share »

Bemer USA, which makes medical devices geared to vascular physical therapy, has purchased a Carlsbad industrial and office building for approximately $2.58 million.
April 7, 2017 11:39 a.m.
share »

San Diego's Cutwater Spirits and You & Yours Distilling Co. are just the latest among a wave of craft distillers now offering their own take on gins, vodkas, rums and other alcoholic spirits — a roster now numbering more than a dozen in San Diego County alone.
April 6, 2017 4:09 p.m.
share »
DEI Holdings Inc. and Sound United announced April 6 that they have named Pete Harper as chief financial officer.
April 6, 2017 4:03 p.m.
share »

Why didn't I think of that? Some innovations seem so simple that a person might say that to himself. Callaway Golf Co.'s new top-of-the-line driver, dubbed Great Big Bertha Epic, comes with a novel set of reinforcing bars that prevent the golf club from deforming as it makes contact with the ball. The Carlsbad-based company says the reinforced face increases ball speed and distance.
April 6, 2017 1:17 p.m.
share »