SD FINANCE
Recent and archived news stories on: Banks, Credit Unions, Mortgage Lending, SBA, Stocks/Bonds, Venture Capital, Wealth Management...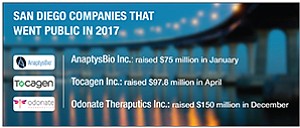 FINANCE: Analyst Expecting Strong Market In 2018 for S.D. Cos.
Robust equity markets and high investor confidence are likely to spur some local companies to go public next year. That's according to Tim Holl, a San Diego partner with EY, who said the combination played a role in pushing the number of IPOs in the U.S. this year to its highest since 2014.
Prev Next