Viasat Inc. has signed a deal to provide the U.S. Special Operations Command with satellite networking and communications.
Cubic Corp. announced in mid-January that it has gone to full-rate production on its GATR satellite dish contract for the U.S. Army. The decision means the Army can buy and field more than 800 satellite communication systems.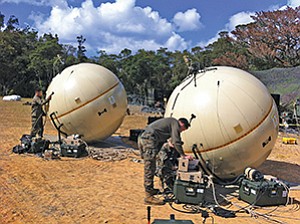 General Atomics Electromagnetic Systems Group said on Jan. 25 that it acquired assets of Toronto-based Xagenic Inc.
General Atomics Aeronautical Systems Inc. said it successfully demonstrated an automatic takeoff and landing feature using a satellite data link on a company-owned aircraft.
The Navy and shipbuilder General Dynamics NASSCO wrapped up sea trials of its fourth expeditionary ship, the USNS Hershel "Woody" Williams, on Jan. 19.
Rancho Bernardo-based LRAD Corp. said on Jan. 19 that it acquired software maker Genasys Holding S.L. of Madrid, Spain.
Walter C. Zable, chairman of the board at Cubic Corp., is leaving after 54 years as a company employee and board member. The company has nominated defense executive David Melcher for a board seat.
DEFENSE: Solid Growth,Smart Acquisitions and Risk Taking All Part of Strategy
General Atomics Electromagnetic Systems has grown more than 500 percent in revenue and employee count over the last 10 years.
According to the Pentagon, nine businesses will support tactical platforms and time-sensitive applications for the DataLinks Enterprise community.
Work will be performed in San Diego and last through January 2019.
Every city and county in California is getting an injection of funding to fix potholes, repair sidewalks, and invest in public transportation, thanks to a new law — Senate Bill 1 (SB 1).
By Colin Parent
January 14, 2018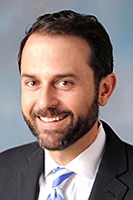 He relieved Vice Adm. Mike Shoemaker in a ceremony Jan. 11 at Naval Air Station North Island.
The University City-based business did not name its customer in its Jan. 8 announcement.
The deal covers initial production of microwave electronic products for a new, state-of-the-art airborne electronic warfare system.
General Atomics Electromagnetic Systems Inc. said Jan. 3 that it received a defense contract to supply capacitors for a non-lethal device able to stop vehicles.