SDBJ BEST PLACES TO WORK: MEGA EMPLOYER CATEGORY (2,000+ U.S. EMPLOYEES)
Swinerton Employees Build Up Benefits as They Transform Skyline
Sunday, October 6, 2019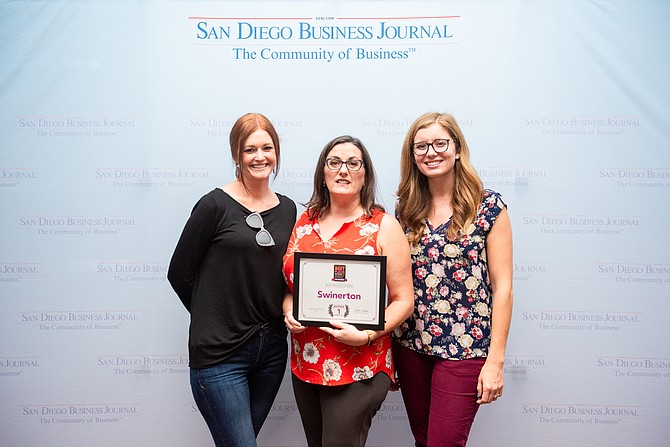 There is even a sense of fun in charitable giving. The company's Fall Giving Challenge encourages volunteering and fundraising for philanthropic causes — and pits divisions against each other for bragging rights. Swinerton matches all contributions to all charities involved.
2. GoDaddy
Top local executive: David Kirven, Senior Vice President of Telephony
Address: 5600 Avenida Encinas, Suite 170, Carlsbad 92008
U.S. employees: 6,749
What they do: Technology provider; HQ is in Scottsdale
Technology specialist GoDaddy bills itself as an incredible place to work, committed to diversity and accepting employees in their entirety. The publicly traded company offers employee stock ownership as well as full coverage of medical insurance premiums. Discounts are offered on home, auto, life, renters and pet insurance, and the company contributes to the health savings accounts of employees who select that type of plan. GoDaddy offers a 40% discount on child care and covers the cost of MilkStork, the breast milk shipping service, for new mothers while on business travel.
While many companies frown on employees having side income or interests, GoDaddy encourages employee "side hustles" and offers team members deep discounts on GoDaddy products and services.
Under the WowMe program, employees can recognize one another for demonstrating company values in action and going above and beyond. Recipients receive a cash reward up to $5,000.
3. RSM US LLP
Top local executive: Jerry Varga, San Diego office Managing Partner
Address: 3430 Carmel Mountain Road, Suite 200, San Diego 92121
U.S. employees: 10,485
What they do: Audit, tax and consulting services
RSM US LLP cares about its talent. The firm invests in new training, tools and resources to ensure its people have a positive and differentiated experience. Recognizing that diversity in the workplace is key, the corporation has 11 employee network groups to promote culture, diversity and inclusion.
In addition to the usual benefits, RSM offers childcare subsidies, for the entire year or just for the busy season. Meals are served Monday-Thursday and Saturday during the busy season. There are also plentiful snacks and an in-office kegerator with nitro cold brew, kombucha and iced tea. The business offers sit-stand desks with therapeutic Wurf Boards and under-desk bicycles.
To add a sense of fun, the San Diego office hosts events such as games and happy hours. The staff follows the World Cup and March Madness, and all can participate in special events such as ice cream Fridays and the rainy day grilled cheese bar.