SDBJ BEST PLACES TO WORK: MEGA EMPLOYER CATEGORY (2,000+ U.S. EMPLOYEES)
Swinerton Employees Build Up Benefits as They Transform Skyline
Sunday, October 6, 2019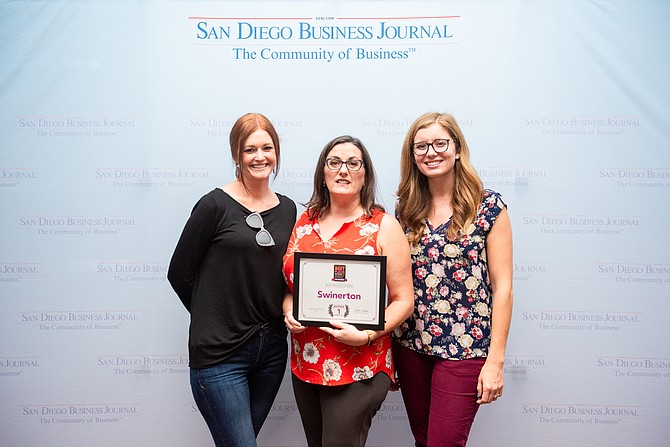 1. Swinerton
Top local executive: Mark Payne, Vice President and Division Manager
Address: 16798 W. Bernardo Drive, San Diego 92127
U.S. employees: 3,742
What they do: Commercial construction and renewable energy
A well-traveled barbecue smoker trailer is a key piece of equipment in the Swinerton Inc. inventory.
It doesn't serve customers. Rather, Swinerton uses it to serve the company's other key constituency, its employees.
Swinerton's work with its employees won the business the top award this year in the Best Places to Work competition, mega category.
"We are very honored to have received this again for the fourth time," said Mike Berryhill, operations manager. "Each and every one of our employees is very proud of this acknowledgement."
Swinerton, with 3,742 U.S. employees, is in the commercial construction business. It also has a division focusing on renewable energy. Based in San Francisco, it has offices throughout the West as well as in Dallas, Atlanta and Charlotte, North Carolina. The company's San Diego office was established in 1993. By now that office — in Rancho Bernardo — is one of its largest in the company, with more than 300 employees. San Diego County employees are also distributed among job sites throughout the region.
Notable projects for Swinerton in the last year include the Sycuan Casino Resort expansion and the Luma tower in Little Italy.
To make such a mark on the San Diego landscape, Swinerton does work behind the scenes supporting its employees.
First off, the company is employee owned, which motivates employees to do a good job.
The company benefits package includes medical, dental and vision coverage with a majority of the premiums covered for employees and their dependents. It offers retirement savings options (employees may begin contributions 90 days into their tenure) and the company makes a match.
Bonus awards are available annually and on the spot (as immediate recognition of outstanding efforts and demonstration of the company's core values in action).
Swinerton annually awards stock to individuals who demonstrate a significant contribution to the organization as well as an ownership mentality of accountability and quality.
Employee perks include a catered lunch four days a week.
Swinerton makes time for its workers to recharge. Employees organize Ping-Pong matches and cornhole tournaments. There are happy hours and days to watch the San Diego Padres as well as thoroughbred horseracing at Del Mar.
Then there is the barbecue trailer. It's a fixture at office get-togethers and job site celebrations involving employees and subcontractors. During an annual stop at the Estimating Department, employees smoke more than 150 pounds of meat.
Prev Next