BIOTECH: CONTRACEPTIVE GEL IS PART OF CEO'S HEALTH MISSION FOR WOMEN
Evofem at Critical Stretch with Potential New Birth Control
Monday, May 27, 2019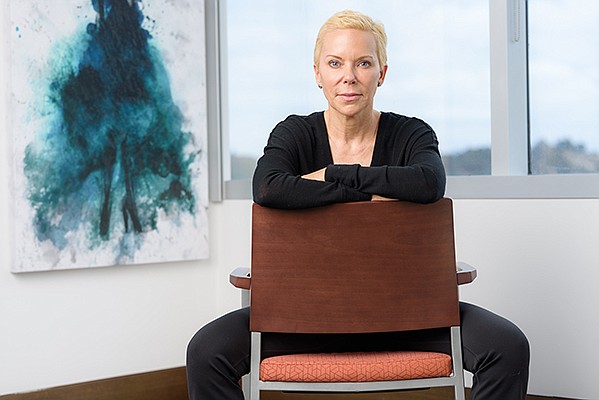 EVOFEM BIOSCIENCES INC.
CEO: Saundra Pelletier
No. of employees: 35
Headquarters: San Diego
Year founded: Spun out of Evomed in 2013
Stock symbol and exchange: EVFM on NASDAQ
Company Description: Evofem developed a contraceptive gel that regulates vaginal pH in a range that's inhospitable to sperm. Later this year the company will ask the U.S. Food and Drug Administration for approval.
Evofem Biosciences wants to be the next big thing in birth control. After a long road, the San Diego biotech finds itself in a pivotal stretch.
Later this year, Evofem will ask the U.S. Food and Drug Administration to approve amphora, its contraceptive gel. The goal: upend a market that's long been dominated by the birth control pill and condoms.
Providing momentum, Evofem is poised to close an $80 million private stock placement. Still, the company must pull in more funding for its planned amphora sales force, a go-it alone commercialization strategy that's rare in the world of biotech. While expensive, the upside of flying solo on the commercial launch would be greater control.
In recent years, CEO Saundra Pelletier built the company, took it public and navigated late-stage clinical testing, or phase 3. It hasn't been easy, she acknowledged.
"We've had a lot of trials and tribulations," Pelletier said. "This hasn't been rainbows and puppy dogs."
Fighting Cancer
Complicating her role, last year Pelletier received a stage III breast cancer diagnosis. After aggressive treatment, she's now in remission and her hair has grown back. Pelletier said she's done with cancer. The sense of optimism extends to the company, which she called her "second baby" — the first being her 11-year-old son.
Last December, phase 3 clinical trial results lifted Evofem. They found the company's gel — which regulates vaginal pH in a range that's inhospitable to sperm — was 98.7 percent effective when used as directed. That's similar to other birth control methods.
Amphora was 86 percent effective when accounting for a fraction of women who incorrectly used the drug candidate. Minimal side effects were reported, Evofem said.
Unlike the pill, amphora doesn't have hormones.
Millions of women can't safely ingest such hormones, while others prefer not to because of side effects like weight gain or depression. Some intrauterine devices, or IUDs, are hormone free, though require a doctor for insertion and removal, while Evofem pitches amphora as on demand.

Opening Some Investors' Eyes
Pelletier said in the past Evofem assumed male investors realized the drawbacks of hormone-laden birth control. But the company broke through after encouraging them to broach the matter with important women in their lives.
Prev Next