FOOD: COMPANY APPEALS TO MILLENNIAL TASTES, MINDSET
Product, Passion and Branding Hit Target
Wednesday, May 22, 2019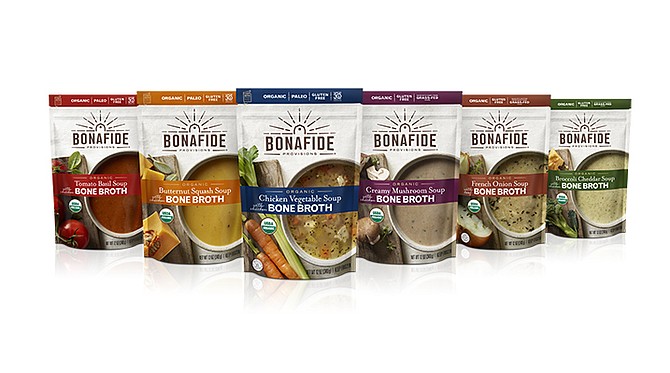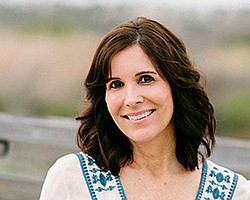 BONAFIDE PROVISIONS LLC
Founder: Sharon Brown
Revenue: Privately held; multimillion dollar company with a growth of over 50% annually, according to the company.
No. of Local Employees: 15
Headquarters: Encinitas
Year Founded: 2011
Company Description: Makers of bone broth and bone broth-based products.
Food company Bonafide Provisions sells chicken, beef, turkey and frontier flavored broths and other bone broth-based food products in about 6,000 stores nationwide, including Jimbo's…Naturally!, Sprouts Farmers Market and Whole Foods Market.
For co-founder Sharon Brown, it all started on a more personal level.
In 2001 at the age of six months, her middle child developed his first sinus infection and remained on treatments on-and-off till about age six. By the time he was in the first grade, his teacher suggested he needed to get on additional medication.
It was then that Brown, through her own research, came across what she describes as the natural healing benefits of food, specifically bone broth, and began implementing it into her son's diet. A year later, she said, there were no traces of his past problems.
This inspired Brown, with the help of her husband, co-founder and professional chef, Reb Brown, to officially launch Bonafide Provisions LLC, originally Real Bone Broth, in 2011. The privately held company makes U.S. Department of Agriculture (USDA), U.S. Food and Drug Administration (FDA) and organic certified bone broth.
Bonafide Provisions is headquartered in Encinitas and has about 15 employees.
Brown wouldn't share revenue figures, due partially to investor relationships which began in 2017. The company was originally funded by Brown and her husband. Sharon Brown did say Bonafide Provisions is a multimillion-dollar business with a growth of over 50 percent annually.
Culinary Adventures
To Bonafide's customers, bone broth is not a novelty. For centuries, bone broth has been used to protect joints and the gut. Claims include that it supports healthy immune system functions and maintains healthy skin, among other benefits. But, in recent years, according to Brown, the practice has made a comeback thanks to companies like Bonafide Provisions and also the increased desire of today's generation to seek out what many consider healthier and cleaner food options.
"People use it for everything, even for waffles and brownies," said Brown. "They use the broth in place of liquid to get all that collagen in the recipe." They also use it for things like rice, quinoa and beans and for sautéing veggies, said Brown.
She added that some other clients have told her they put the broth in ice cube trays and take individual cube sizes to add to salmon or smoothies. "It's a way to get that added collagen, amino acids and protein from super foods throughout the day," Brown said.
Prev Next